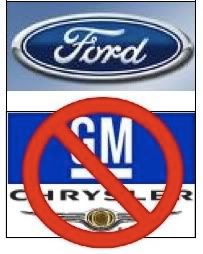 A few weeks ago (covered at NewsBusters; at BizzyBlog), the Associated Press tried to pass off a poll it had conducted with its partner GfK Roper Public Affairs and Media (inexplicably held for 40 days) as showing that "Americans (are) shifting to US cars."
Actually looking at the poll's detailed results revealed that Americans are "shifting to US cars" made by Ford, and either shifting away or staying away from those made by the two wards of the state known as Government/General Motors and Chrysler.
They're still at it, just not quite as blatantly. A brief AP item yesterday reported that automotive residual data collector Automotive Lease Guide's Spring 2010 Perceived Quality Study (PDF here) had shown a significant decline for Toyota and significant improvements at Ford and Kia.
Guess who AP "forgot" to mention? When you see the graphic results, you will see who, and instinctively understand why.
Here's a portion of AP's unbylined report: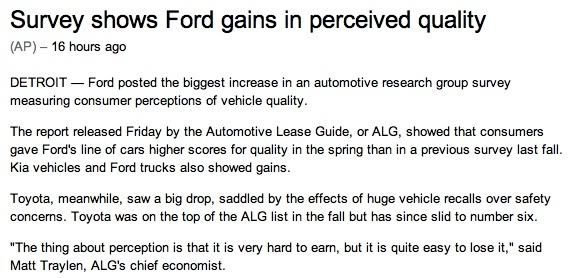 Here's what the AP "somehow" forgot: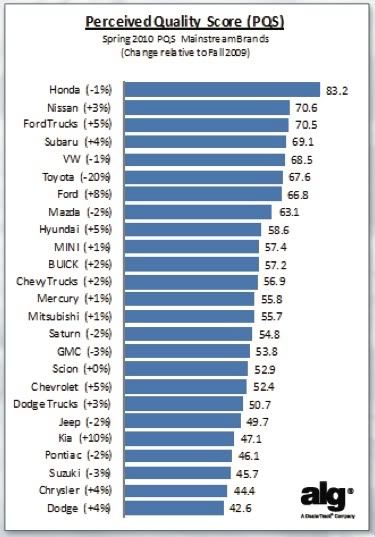 Gee, AP could have noted that GM's and Chrysler's brands have mostly improved. Unfortunately, that would have also meant noting that Chrysler's primary brands now own the basement (having been passed by Kia), and that GM or Chrysler brands and former brands occupy 8 of the bottom 11 slots. Better to pass on saying anything about the still-foundering efforts of President Obama's car czars, I suppose.
No, there isn't a separate article about GM or Chrysler. The results of an AP main site search on "Automotive Lease Guide" (not in quotes) shows the story discussed in this post is the only one.
ALG also published a similar chart for luxury vehicles (Page 3 at the PDF) the AP chose not to cover. It shows that Toyota's Lexus brand has dropped six points in the perceived quality in the past six months (ALG does its survey two times a year), and has dropped from first to third, closely trailing Mercedes and BMW.
All in all, AP was mighty selective. Well, at least a complimentary call-out to Ford beats what the wire service did a few weeks ago.
Cross-posted at NewsBusters.org.