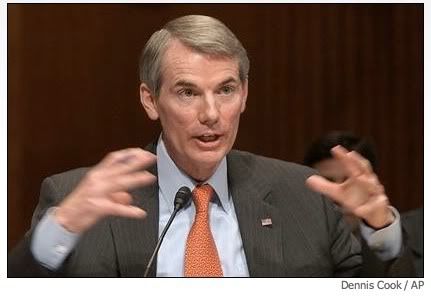 Note: This post went up at the Washington Examiner's OpinionZone and was teased here at BizzyBlog on Monday evening.
______________________________
GOP nominee Rob Portman has been in philosophical cruise control since he declared his candidacy for the Buckeye State's open U.S. Senate seat over a year ago.
The former six-term Southwestern Ohio congressman, who followed that service with successive one-year stints as Bush administration Trade Representative and as head of its Office of Management and Budget, seems as bound and determined as anyone I've seen in a long time to stay in cruise control until Election Day.
Last year, when Sonia Sotomayor's nomination was before the august body he wishes to join, he said nothing. Meanwhile, Tom Ganley, Portman's sole GOP primary opponent, had plenty to say in opposition to Sotomayor. When Ohio's retiring alleged Republican Senator George Voinovich voted to confirm her, Portman was again silent.
Earlier this year, the Ohio Republican Party, which I have taken to calling ORPINO (the Ohio Republican Party In Name Only), "persuaded" Ganley that his political fortunes would be best served if he chose instead to run for Congress against incumbent Democrat Betty Sutton. In the context of what happened statewide on May 4, it's quite easy to believe that ORPINO "persuaded" Ganley thusly: "Look pal, you can empty your substantial bank account, and it won't matter. We're determined to empty our treasury and throw all available party resources at any and all insurgent/Tea Party candidates. And we'll win."
That is indeed what ORPINO did to Auditor candidate Seth Morgan, who challenged ORPINO favorite Dave Yost, and Sandy O'Brien, who went up against party golden boy Jon Husted for Secretary of State. In twin unprecedented moves in competitive primary races — moves that I have never seen directed at even Democrats in the 35 years I've been voting in Ohio — the party pushed out as many as eight slate card mailings spotlighting Yost and Husted, and on Election Day placed operatives handing out slate cards at dozens and perhaps hundreds of key polling locations throughout the state. Ganley, whose candidacy against Portman was going to be a long shot even without ORPINO's heavyhanded intervention, opted for self-preservation and set his sights lower. If only the state party was as intent on winning general elections.
From Portman's perspective, Ganley's withdrawal avoided the possibility of a pre-primary election debate and enabled him to remain in cruise control. It is becoming painfully clear that Portman will stay right there if he, ORPINO, and his handlers think he can get away with it. Recent polls showing him slightly trailing Lieutenant Governor and Democratic nominee Lee Fisher, a dreadful candidate who hasn't won a statewide general election on his own since 1994, should be disabusing Team Portman of that notion — if they're not already asleep at the wheel.
Rob Portman has several serious problems with center-right Ohioans, and if he doesn't conquer them in the coming months, the people he still thinks are "his," many of them already embittered at ORPINO's primary tactics, will either stay home or skip his name on the ballot. Here are just a few of those concerns.
On fiscal matters, Portman's congressional voting record deteriorated over time, to the point where by the end of his service, he could accurately be described, as another Beltway journalist recently did, as a "big spender."
On immigration, as a congressman Portman received an average grade of D+ from Numbers USA. The Federation for American Immigration Reform (FAIR) gave him a grade of 0% in December 2003.
Portman is a consummate Washington insider, and has been for years. Sadly, available information tells us he considers that to be a feature, not a bug. This is self-evidently out of sync with center-right Ohioans.
Finally, when the chips are down, will Portman choose country first, or Rob first? This quote from a 2005 Cleveland Plain Dealer profile provides little comfort or solace:
"I probably am a little risk-averse compared to some members [of Congress]," he concedes, "but I think a lot of that is a deliberate decision on my part that some things are worth it for my career and some things aren't."
Gosh, don't do us any favors, big guy.
Portman seems every bit like the kind of politician who always wants to have the "escape hatch" New Jersey Governor Chris Christie referred to last week.
Rob Portman had better define himself as a genuine, constitution-based, sensible conservative (assuming he is one) with the courage of his convictions (if he has them) in the coming months. Cruise control won't work, not even against Lee Fisher.