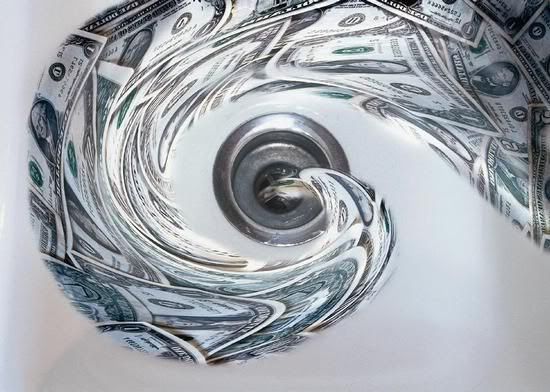 It's here.
I will go up here at BizzyBlog on Wednesday morning (link won't work until then) after the blackout expires.
________________________________________________
Related: Following up on the Ohio-based "traditional" welfare post a week ago, let's get to the reckless expansion of the SNAP/Food Stamp program in the Buckeye State.
Here are the stats on average monthly participation in SNAP/Food Stamps during the past five fiscal years ended September 30 in Ohio:
2005 — 1,007,172
2006 — 1,063,920
2007 — 1,076,764
2008 — 1,150,928
2009 — 1,357,412
Note that this is "average monthly participation." For the 2009 average result to have occurred, actual enrollment at year-end (September 30, 2009) had to be close to or possibly above 1.5 million.
Is this expansion occurring because of need? Partially, but by no means entirely. As the New York Times reported late last year (and as an e-mailer has helpfully confirmed with specific examples), the state is trolling for participants:
Like many states, Ohio has campaigned hard to raise the share of eligible people collecting benefits, which are financed entirely by the federal government and brought the state about $2.2 billion last year.

By contrast, in the federal cash welfare program, states until recently bore the entire cost of caseload growth, and nationally the rolls have stayed virtually flat.
By the way, I don't believe the contention by the Times that the feds cover the entire cost of the program is true. Matt Hurley at Weapons of Mass Discussion reported this correspondence from a county official familiar with the workings of the program last year:
When [the] County runs out of State money to give people Food Stamps, we will have to supplement the Food Stamp Account from the [County's] General Fund. The same fund that pays for the people issuing the Food Stamps. When the General Fund runs out of money, [the county] will have to lay off the people issuing the Food Stamps.
The occasion for that correspondence was a case reported by that same county official of a family approved to receive Food Stamps "where the family have over $80,000 in bank, own a 2001 Toyota and 2006 Mercedes Benz, and a $311,000 home that is paid for."
Perhaps, as the Times notes, Food Stamp aid represents "the only aid many people can get." But I don't believe that kind of recipient is what's driving the growth in enrollment. That kind of recipient was more than likely already receiving benefits before enrollment exploded.
I believe that two other factors, both relatively recent and described in the column, are driving enrollment:
An official directive from Washington that "applicants will not need to provide documentation verifying their resources." In other words, if the applicants say they have no other "resources" (a loose word that refers to complicated definitions of income and assets), the bureaucracy just takes their word for it.
The idea of "categorical eligibility" which specifies that "anybody who receives other federal aid, such as Medicaid, automatically qualifies for food stamps in most states." In other words, it's totally irrelevant whether the applicants really need Food Stamps; they just get 'em.
Ohio appears to have been especially aggressive in "outreach" (i.e., finding people who are "somehow" getting by without federal handouts and telling them about free bennies they're missing out on) and in waving as many people through as quickly as possible.
Last year, in reaction to the Warren County story noted earlier, I expressed concern that "the Buckeye State's Democratic administration has turned the Food Stamp Program into an entitlement for anyone experiencing a temporary loss of income, regardless of how financially well-off they are."
That's not supposed to be the idea — unless the goal is to sign up as many potential voters as possible and get them to the polls to support Democrats in the fall by telling them that their freebies might be going away if those eeeeevile conservatives and Tea Partiers win election. What else explains throwing so much money at people regardless of whether they really need it?
__________________________________________
UPDATE: Make that 1.58 million as of February 2010, with a healthy dose of obfuscation –
(Ohio Department of Job and Family Services Director of External Affairs Benjamin) Johnson provided a chart of the most recent food stamp program statistics for February 2010, showing that 1,580,704 persons (13.7% of Ohio's population) sought public help to feed themselves and their families. In February of 2008 that figure was 1,125,988, which represents a 40.3 percent jump in just two years.
That's a clever lookback to 2008 by Mr. Johnson. Looking back to about a year ago, this Cleveland news story said there were "about 1.2 million" recipients. This means that the vast majority of the enrollment increase has happened since Dear Leader took office — which makes sense, because it was his stimulus package that increased benefits by a double-digit percentage for no reason related to food costs, and because it's his bureaucrats who are loosening the rules to the point where there barely are any.
UPDATE 2: I didn't even get to the fact that college kids, even those from well-to-do families, can easily qualify for Food Stamps.