The Dow, as it hangs around 10,000, is down about 11.5% from its intraday peak of 11,309 a month ago.
In context, if an ongoing correction is in process (and yours truly knows better than to assert such things), it would mean that Obamanomics, such as it is, hasn't come anywhere near repairing the damage to equity investments caused by the POR (Pelosi-Obama-Reid) Economy.
This chart I made at the market's trough in March of last year tells the tale: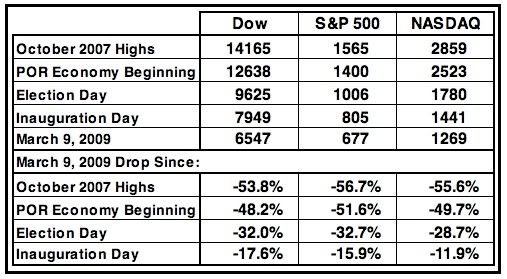 Dow 10,000 is over 20% below where it was when the POR Economy began in June 2008. NASDAQ 2,200 is about 15% lower. The S&P 500 at 1,075 is about 23% lower.
The thing to remember at times like these is that the stock market is supposed to be a leading indicator. So … leading to what?
UPDATE: Wednesday's closes — Dow – 9,974, NASDAQ – 2196, S&P 500 – 1,068.