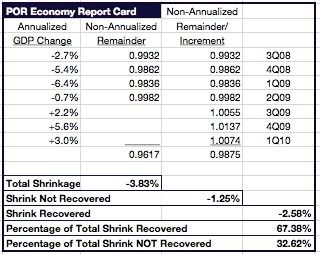 Well, this caught me by surprise, as I thought the release would be tomorrow. Oops:
Real gross domestic product — the output of goods and services produced by labor and property located in the United States — increased at an annual rate of 3.0 percent in the first quarter of 2010, (that is, from the fourth quarter to the first quarter), according to the "second" estimate released by the Bureau of Economic Analysis. In the fourth quarter, real GDP had increased 5.6 percent.

The GDP estimates released today are based on more complete source data than were available for the "advance" estimate issued last month. In the advance estimate, the increase in real GDP was 3.2 percent …
Expectations according to this Atlantic item were for +3.5%:
Of course, 0.2% isn't much. But it is a little disappointing where most of this revision came from. Spending needs to drive the recovery to create jobs. It's also unfortunate that restaurants and travel was one of the most downwardly revised components; spending on these non-necessities is also an indicator that consumers are feeling much more comfortable opening their wallets. This component, and spending overall, still showed a healthy increase compared to 2009, but these revisions make their progress a little less impressive.
0.2% "isn't much," but trailing expectations by 0.5% borders on it.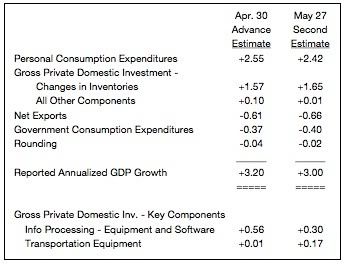 The graphic at the right is based on looking at the full release, and comparing it to last month's advance release (full text; BizzyBlog post).
The "Windows 7 recovery" element I've cited as important during 4Q09 and the most recent quarter diminished, though it is still outsized in terms of its contribution to growth (about 4.4% of the economy, about 10% of its reported growth, down from 17.5% as originally reported).
Transportation equipment's revised improvement is a surprise, because it is such a small component of the economy (this is private company transportation equipment, not purchases of vehicles by individuals and families). The sector is about 0.6% of the economy, but accounted for 5.7% of its growth. A lot of this probably has to do with companies finally replacing worn-out equipment they had deferred buying for as long as possible. That kind of disproportionate contribution to growth doesn't seem sustainable for more than another quarter, if that.
The relative lack of change in net exports masks pretty big contribution changes from April's original report in exports (0.16-point increase in contribution from +0.66 to 0.82) and imports (0.20-point decrease in contribution from -1.28 to -1.48). We exported more than originally thought, but we imported even more than that.
The graphic at the top right of this post is a helpful reminder that the economy is still barely 2/3 of the way back from where it was when the POR (Pelosi-Obama-Reid) Economy began doing its damage (roughly June 2008, possibly a bit earlier based on recent employment-related revisions) and the recession As Normal People Define It began (i.e., the third quarter of 2008).
___________________________________________
UPDATE: Someone must have put truth serum in Jeannine Aversa's coffee over at the Associated Press this morning –
So economic growth needs to be a lot stronger – two or three times the current pace- to make a big dent in the nation's 9.9 percent unemployment rate.
That's a big slip, Jeannine.
Some simple math: 2-3 times 3% is 6%-9%. The POR Economy, in three quarters of its "Rebound? What Rebound?" recovery, hasn't hit that target even once. So what you're telling me, ma'am, is that the Obama Economy's attempt at a job-growing economic recovery has thus far been an epic fail.