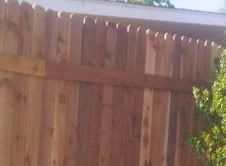 With all the major news stories and developments out there, the editorial board at the Mat-Su Valley Frontiersman in Wasilla, Alaska, Sarah Palin's hometown, is bemused, bewildered, and somewhat befuddled at the national media's interest in a privacy fence (HT Michelle Malkin) on residential property.
The just-built fence is on Palin's property. Its purpose is to frustrate the prying eyes of author Joe McGinnis, who has moved into a house next door for what is said to be the next five months.
The Palins are understandably none too pleased at the orchestrated attempt at privacy invasion that appears to either be funded by or will ultimately be reimbursed by publishing giant Random House. Readers here will share that feeling once they see who is expending precious newsroom resources trying to follow the McGinnis v. Palin saga instead of dealing with legitimate news stories.
Here is some of what the Frontiersman had to say on Saturday (bolds are mine):
Wasilla fence fascinating for national media outlets

The "Today" show called Friday morning saying it plans to come up Monday and do some interviews about the fence Todd and Sarah Palin built on their property on Lake Lucille.

According to people who care about those things, the former governor wrote on her Facebook account that she was worried about the neighbor, Joe McGinnis, moving in. He's the author of several books, one of which is an alleged non-fiction story about his exploits in Alaska titled "Going to Extremes."

… McGinnis also wrote last year a fairly scathing article for Portfolio magazine — which no longer exists — about Palin's plans, or not, for a gas pipeline.

So it's not surprising she might be a little leery about her new neighbor.

… So the call from "Today," quickly followed by a similar call from ABC news, seemed curious. The day before it was another national news outlet wanting to know if we had a photograph of the fence. There was an e-mail from Outside asking if the Palins were in compliance with city code.

… Fences have been known to make good neighbors and everybody knows we could use a lot more of those around here. So if the fence keeps McGinnis on one side and the Palins content, why would the "Today" show or ABC care?
The establishment press seems continually befuddled and bewildered at the public's declining level of respect for them, wondering why people feel the need to find alternative news outlets. Assuming any work product airs, this waste of viewers' time will be a prime exhibit. Even if it doesn't air, complaints from the press that they don't have the time to do their jobs right will continue to ring mighty hollow.
The Frontiersman editorial's final paragraph commendably and appropriately communicates a not very subtle sense of outrage:
Finally, those who are fond of Joe McGinnis might remind him (if he doesn't already know) that Alaska has a law that allows the use of deadly force in protection of life and property.
Pre-parting thought: On his show Thursday, Mark Levin noted how liberal pundits are trying to tell us how "irrelevant" Sarah Palin is — so "irrelevant" that they somehow can't stop talking about or taking shots at her. Indeed.
Parting thought: Palin has told Glenn Beck (HT Hot Air) that McGinnis's presence will force her family to keep their windows closed when they normally rarely do, and, it would appear, to have to install air conditioning in their home ("None of our houses have ever had air conditioning"). Does anyone think that a prominent liberal having to react as Palin has been compelled to in order to protect her and her family's personal privacy wouldn't be getting tons of establishment press sympathy?
Cross-posted at NewsBusters.org.