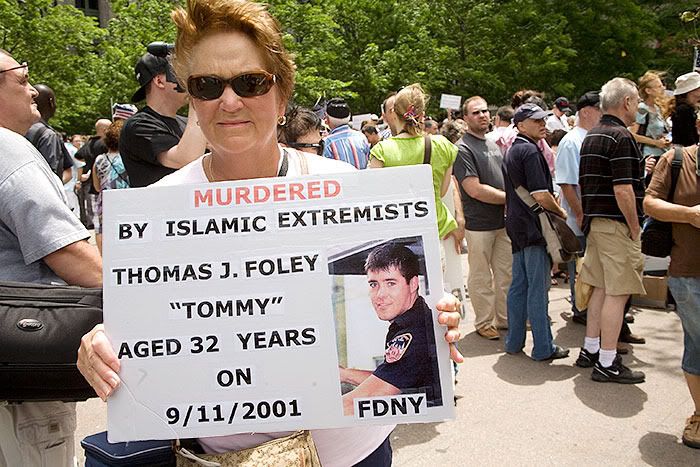 For about seven weeks, the New York Times has ignored fast-breaking developments in the saga of the proposed 15-story mosque planned for the site of a currently standing historical structure that suffered collateral damage in the 9/11 attacks.
A Times search in descending date order on "ground zero mosque" (not in quotes) shows that the last time the paper directly covered the story was in a May 25 item (May 26 print edition) by Javier C. Hernandez with a saccharine title ("Vote Endorses Muslim Center Near Ground Zero"). When's the last time that a Catholic cathedral was called a "Christian Center"? Hernandez himself never referred to the proposed building as a mosque; three others quoted in the story did.
On June 6, a group led by Pamela Geller, Robert Spencer and others that included many family members of 9/11 victims held a protest against the mosque in Lower Manhattan. Roughly 5,000 attended, as seen in the pictures carried at this BizzyBlog post (some of what little press coverage there was ridiculously claimed that the crowd was only a few hundred). The Times search above, along with on Geller's name (in quotes) and "ground zero protest" (not in quotes), demonstrate that the paper gave it no coverage. But on June 3, it did give over 1,000 words to letter-writer Richard Bernstein, who ripped Geller for "Demonizing Adherents of Islam" and strangely decided that publishing her age was important (from here, Pamela, you look at least 20 years younger).
On Tuesday, the folks at the Old Gray Lady finally decided that the controversy was worthy of renewed coverage ("Planned Sign of Tolerance Bringing Division Instead"). It would appear that the wake-up occurred because the number of bad guy vs. good guy story lines has reached a critical mass, and now includes politicians who are weighing in.
Let's see, there are "Muslims against Christians, Tea Partiers against staunch liberals, and Sept. 11 families against one another." There are also Democrats, genuine Republicans, and a mayor who was a Republican of convenience but is now an independent involved. You don't need a scorecard to see on whose side the sympathies of Mr. Hernandez, who also wrote Tuesday's story, reside:
… what began as a gesture of combined good faith by Muslims and non-Muslims has turned into a familiar game of New York City political football.

The bellicose discourse was on full display on Tuesday in an auditorium at Hunter College in Manhattan as the city's Landmarks Preservation Commission considered whether to grant one of the buildings that would be torn down for the project, at 45-47 Park Place, status as a protected landmark. The entire center would occupy 45-51 Park Place.
Let's pause for just a moment. It should be noted that there was once considerable sentiment for protecting "45-47." It seems to have vanished into thin, politically-correct air.
Resuming the story:
In a city where the memorial to those killed on Sept. 11 is only now taking shape, it is perhaps not surprising that the idea of a mosque near the ruins of the World Trade Center would stir such passion.

Sally Regenhard, whose 28-year-old son, Christian, a firefighter, died on Sept. 11, said in an interview that the center would amount to "sacrilege on sacred ground."

… In recent days, politicians have called for an investigation of the group's finances and expressed concerns about the views of its leader, Imam Feisal Abdul Rauf, who has held services in a small mosque in TriBeCa since 1983.

… With a November election approaching, politicians have latched onto the issue as a high-profile platform to attack their opponents.

On Tuesday, Rick A. Lazio, a Republican running for governor, urged the landmarks commission to protect the building, constructed in the late 1850s in the Italian Renaissance palazzo style; this would effectively halt the plans for the Muslim center. The commission expects to vote on the issue in August.

"This is about getting questions answered," Mr. Lazio told reporters. "This is about transparency. This about the safety of the people of New York."

…. Representative Peter T. King, a Republican, joined Mr. Lazio in calling for an investigation into the financing of the project. But Andrew M. Cuomo, Mr. Lazio's Democratic opponent and the state's attorney general, has rebuffed those requests.
The limits of excerpting prevent me from including Mayor Bloomberg's particularly odious position.
Hernandez never told readers that Imam Feisal Abdul Rauf has refused to disclose the sources of their funding, or that there is plenty of controversy (HT to Pamela's Atlas Shrugs blog) about the legitimacy of Rauf's claims to be moderate.
All in all, it comes off as mean non-Muslims being unfair to peace-loving people who just want to practice their faith and mean no harm to anyone.
This contentious story quote story from "Yvonne Haddad, a professor at the Center for Muslim-Christian Understanding at Georgetown University," leaves me with lots of doubt:
"But building mosques makes a statement that 'we are here and we are here to stay,' and some people would like to wish them away."
When's the last time anyone building or advocating a chapel, church, cathedral, or temple whose mission is supposed to be private religious worship made such an in your face statement?