Geez, can't anybody here play this game?
During his visit to Holland, Michigan on Thursday, President Obama spoke with NBC's Chuck Todd. NBC aired the interview on the NBC Nightly News and The Today Show.
In reporting on that interview, the Associated Press quoted the President as telling "NBC" (i.e., Todd) that midterm congressional election results could come down to "a choice between the policies that got us into this mess and my policies that got us out of this mess." I prepared a post (at NewsBusters; at BizzyBlog) that relied on the AP's quote. It turns out that the AP misquoted the President. I'll get to what Obama really said shortly.
But there is a also a significant omission in the transcript of the interview carried at the Page, Mark Halperin's blog at Time/CNN. I wouldn't know whether NBC, its transcription service, or the White House is responsible for it, but portions of Todd's questions relating to White House Press Secretary Robert Gibbs's acknowledgment that Democrats could lose control of the House in this fall's congressional elections are missing.
Both errors are visible in revisions I have a made to the relevant portion of the transcript that follows (the original video is here for those who wish to hear it for themselves; excerpted portion begins at about the 7:55 mark):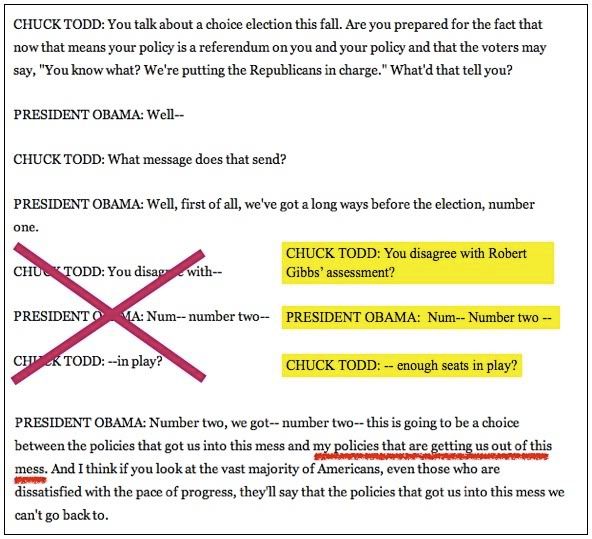 The transcription error, as noted in comparing the yellow-boxed text at the right to the original text on the left visible through the cross-out, is that Todd's references to Gibbs and to "enough seats" being in play aren't there.
Of all the things not to show up in a transcript, it "just happens" to be one relating to a possible source of tension between the President and his Press Secretary — something that might inform readers who might not otherwise realize it that the party in charge of Congress could change this fall. How serendipitous for Team Obama.
The AP's error is underlined in red near the end of the excerpt. Obama did not say, as AP reported, that "my policies got us out of this mess." He said that they "are getting us out of this mess." Whether that assertion is true is clearly debatable, but the relevant point at the moment is that AP gave readers, including yours truly, the false impression that the President was already declaring victory over "the mess." Accordingly, I have added "Modified in Subsequent Post" to the original titles at Friday's NewsBusters and BizzyBlog posts, and have added an introductory update explaining the situation and pointing to this post at each.
Cross-posted at NewsBusters.org.