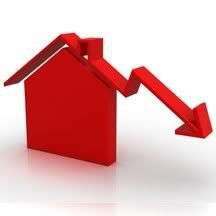 Thanks to Shirley Sherrod, Andrew Breitbart, and the NAACP, political journalists have supposedly discovered the importance of "context" (though they strangely seem to lost interest once fuller context items like this and this became known). It would be helpful if such an interest in full context would legitimately and consistently spread to business reporting.
Full context would include looking at the raw business and economic data before it gets seasonally adjusted and reporting it when it is significant. Given the information the press would then have to report in the current economy, I'm not holding my breath waiting for journalists to even look at it, let alone report it.
Take the housing market, particularly housing starts and new single-family home sales. During the past week, the Census Bureau released statistics on each of these important metrics. Let's look at an excerpt from reports about each.
First, housing starts, in an unbylined July 20 AP report:
Housing Starts Drop 5 Percent In June; Permits Up

Home construction plunged last month to the lowest level since October as the economy remained weak and demand for housing plummeted.

Construction of new homes and apartments in June fell 5 percent from a month earlier to a seasonally adjusted annual rate of 549,000, the Commerce Department said Tuesday. May's figure was revised downward to 578,000.
Now, here's an item about new single-family home sales via Reuters:
New Home Sales Surge in June, Inventory at 42-Year Low

The Commerce Department said on Monday sales jumped 23.6 percent to a 330,000 unit annual rate from a downwardly revised 267,000 units in May. The sales pace last month was still the second lowest since records started in 1963.

… June's rebound to a seasonally adjusted annual rate of 330,000 homes surprised analysts on the upside.
In each case, it's not fair to say that the content of the reports covered up the bad news (though the deception in the Reuters headline is painfully obvious).
But it is fair to say that each report, and every other report I perused before putting up this post –at least a half-dozen articles about each metric — missed the fact that the raw data for June was the worst for any June on record (Census Bureau sources, both 11-page PDFs: Housing Starts; Single-Family Home Sales; also see the Update in the next paragraph):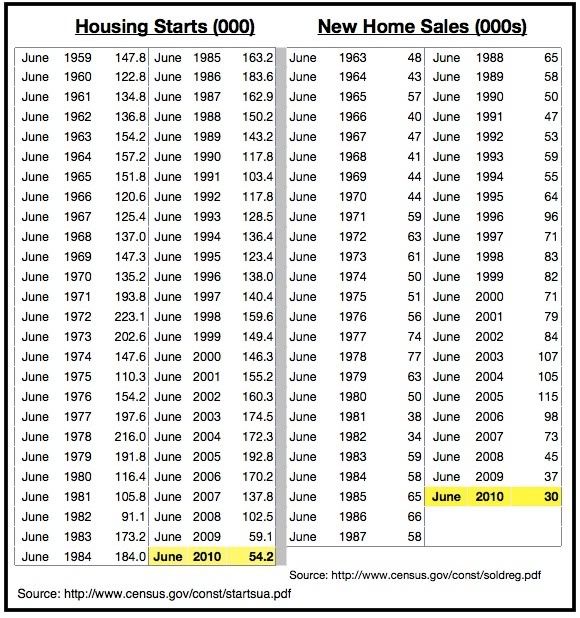 In the case of housing starts, on a population adjusted basis, the 54,200 housing starts that reportedly occurred in June is the lowest figure for any June in the 50-plus years such records have been kept — by over 50%. As to new single-family homes, June is supposed to be one of the busiest sales months of the year. If that ends up being the case in 2010, it's going to be a very rough rest of the year. (Update, August 19: The June figure was revised downward in July's release to 53,400.)
Of course, each June 2010 result is also worse than June 2009. It wouldn't have been at all difficult to communicate those one-year comparisons to readers, if any reporter had cared to. But that might have made the whole idea that a real economic recovery is taking place seem silly. Apparently, we can't have that.
The above graphic provides context. It's not pretty, and it makes a mockery of the Obama administration's so-called "Recovery Summer" propaganda campaign.
There's nothing inherently wrong with seasonal conversions, but treating them as the be-all and end-all, or even as if they are the real actuals, which is all too typical, is fundamentally incorrect. Unfortunately, this error constantly occurs, and it occurred frequently in the reports I saw on the two metrics that were the subjects of this post.
Cross-posted at NewsBusters.org.
_______________________________________
UPDATE: Full context  – An NB commenter points out that current stats are in a ridiculously low interest-rate environment. Previous periods when housing activity was low, especially 1979-1982, featured rates that were extraordinarily high.