Link: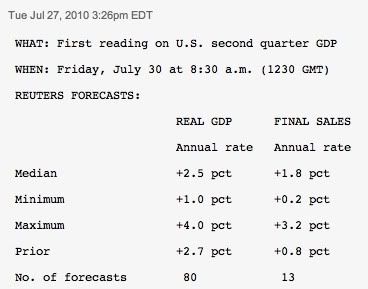 Additional noteworthy items at the link:
ANALYST COMMENTS

* GOLDMAN SACHS
"We estimate real GDP grew at a below-consensus 2 percent pace in the second quarter. The report should feature solid growth in domestic demand but substantial trade drag and little if any boost from inventory accumulation."

* IHS GLOBAL INSIGHT
"The economy entered the second quarter with plenty of momentum, but exited with very little. We expect that growth in the third quarter will be slower than in the second."
Looking back: Three months ago (April 27-28 meeting) an "upbeat" Fed predicted full-year growth of 3.5%.
With 1Q10 at 2.7%, 2Q10 at 2.5%, and 3Q10 lower than 2Q10 (say, 2.2%, which at the moment would seem to be optimistic), the fourth quarter would have to come in at something like an annualized +6.4% (factoring in compounding) for the Fed's 3.5% prediction — again, about 90 days ago — to happen.
I don't think so.
Related: From Zero Hedge yesterday —
Durable Goods Are Latest Economic Disappointment: June -1.0% Reading Is Largest Decline Since August 2009 (And Misses Consensus Of Course)

The June US durable goods order is the latest disappointment in a streak of poor macroeconomic data that started well over a month ago, and which will soon enough begin to impact not only GDP but also corporate earnings, as the macro double dip which is now firmly in place, makes it all too clear why companies have been miserly conserving cash. Durable Goods came at -1.0%, a major disappointment to consensus which had been hoping to a nice boost from the previous -1.1% number (now revised to -0.8%), and looking for a +1.0% reading. Better luck next time.
Sidebar: Something funny may be going on in manufacturing reporting. It will become clearer if this is or isn't the case sometime next week. If it's a legitimate possibility, you'll see something here. If not, you won't.