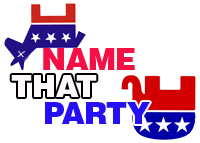 Wednesday evening, Brent Baker at NewsBusters noted that two of the Big Three television networks failed to tag Dan Rostenkowsi, the former long-time congressman from Chicago who was ousted from his seat in 1994 over corruption charges and ended doing prison time, as a Democrat. Rostenkowski (RIP), who was 82, died yesterday.
At the five major wire services whose reports I reviewed — The Associated Press, Reuters, UPI, AFP, and the business-oriented Bloomberg News — Rosty's Democratic affiliation made at least one appearance. But the prominence and directness of those appearances varied widely.
Not surprisingly, the Associated Press and writer Don Babwin did the worst job of identifying Rosty's party, waiting until the eleventh paragraph to directly tag him (the eighth paragraph contains a generic reference to the "Chicago Democratic machine"), and poured it on the thickest when referring to the supposedly beloved bygone days of bipartisanship:
Rostenkowski became symbol of power and excesses

With his rumpled suits and gruff, growling voice, former Rep. Dan Rostenkowski was far more comfortable behind closed doors than in front of the camera or behind a podium.

Rostenkowski left speeches to others, but he quietly wielded enormous power on Capitol Hill for more than 30 years, becoming one of the most powerful lawmakers of his time – and a potent symbol of Washington's excesses after he pleaded guilty to corruption charges.

When Rostenkowski died Wednesday of lung cancer at age 82, those who knew him recalled a meat-and potatoes politician from an era that doesn't exist anymore, where leaders crossed party lines to cut deals and seek consensus, and where a young man from Chicago's Northwest Side could grow up to shape the national agenda as head of a congressional committee. Today most of that power rests with the House speaker.

… Back home, where he emerged from the Chicago Democratic Machine, Rostenkowski brought in millions of federal dollars for public works projects, including improvements to the Kennedy Expressway, the transformation of Navy Pier on Chicago's downtown lakefront into a recreational area, and the construction of a train line to the city's biggest airport.

… Rostenkowski was at once a tough politician who called Chicago politics a "blood sport," and a master at the disappearing art of political compromise. So even as he fought battles on behalf of Chicago mayors back home, the staunch Democrat worked closely with President Ronald Reagan and President George H.W. Bush in Washington.

"We were going to work together," he once said. "We were going to get something done. We were Democrats and Republicans, but we were also legislators."
Sensible, Constitution-based conservatives more accurately recall the years fondly described by Babwin as the period when Congressional Republicans could usually be counted to eventually cave in to the government-expanding ideas of Democrats and then figure out a way to pay for them by becoming what Newt Gingrich, who become the first to seriously change that dynamic in 1994 (unfortunately not consistently), used to call "tax collectors for the welfare state."
At Reuters, Nick Carey got the D-word into the third paragraph, while remarkably (and correctly) connecting Rostenkowski to a current congressman in serious trouble:
Former Representative Dan Rostenkowski dies at 82

Dan Rostenkowski, who as Congress' chief tax-writer was one of most powerful U.S. politicians in the 1980s and early 1990s until brought down by a corruption conviction and a 17-month prison sentence, has died at age 82.

The office of an alderman in Rostenkowski's old congressional district in Chicago on Wednesday confirmed his death.

As chairman of the House of Representatives Ways and Means Committee for 13 years starting in 1981, the Illinois Democrat had a hand in some of the most important legislation of that period.

But a federal grand jury indicted him on felony corruption charges in 1994, and he eventually pleaded guilty to mail fraud.

Just last March, another Democrat who led the Ways and Means Committee, Charles Rangel, was forced to step down as chairman in the face of ethics charges.
UPI's unbyllined coverage was hard on Rosty but overly light on the D-word, putting in the worst performance of all five wire services in that regard. The coverage never directly referred to him as a Democrat, only noting that his father was a party member:
Former U.S. Rep. Dan Rostenkowski dead

Former U.S. Rep Dan Rostenkowski, who rose to be chairman of the House Ways and Means Committee and went to prison in disgrace, died Wednesday. He was 82.

Rostenkowski died at his summer home in Powers Lake, Wis., after a long battle with cancer, the Chicago Tribune reported.

A onetime Washington political insider and power broker, Rostenkowski represented his Chicago 5th Congressional District in Congress for 36 years, rising to head the powerful tax-writing Ways and Means Committee that rewrote the 1986 U.S. tax code. The son of 32nd Ward Democratic Alderman Joseph Rostenkowski, Daniel was first elected to the House of Representatives in 1958 and served until scandal brought him down in 1994.

He was indicted on 17 counts ranging from mail and wire fraud to obstruction of justice, including hiring ghost payrollers and maintaining political slush funds.
Over at AFP, the unbylined story's headline weirdly didn't name Rosty, but got the D-word into the third paragraph, while doing a pretty good job of succinctly describing his political life:
Powerful 18-term former US congressman dies

CHICAGO — Dan Rostenkowski, a powerful legislator during the Ronald Reagan era who was elected to 18 terms in Congress before being arrested on corruption charges, died Wednesday at the age of 82.

An old-style Chicago ward boss and protege of the windy city's legendary mayor Richard J. Daley, Rostenkowski served in the House of Representatives from 1959 to 1995.

As chairman of the powerful Ways and Means Committee from 1981 until 1994, the Illinois Democrat helped broker a key deal to keep the Social Security system solvent and played a major role in reforming taxes, welfare and foreign trade.

He was unseated by an upstart Republican in the 1994 election after being indicted in a wide-ranging corruption case where he was accused of everything from maintaining slush funds to accepting bribes.

Despite pleading guilty to two counts of mail fraud for misusing taxpayer money in 1996 and serving 15 months in jail, Rostenkowski maintained his innocence for the rest of his life.

He was pardoned by outgoing President Bill Clinton just before Christmas 2000.
Business-oriented Bloomberg News was the only outlet to put Rostenkowski's party affiliation into its headline, and otherwise pulled no punches on using the D-word. As would be expected, Laurence Arnold's story concentrated on Rosty's involvement with tax legislation:
Dan Rostenkowski, Democrat Who Steered Tax Policy, Dies at 82

Dan Rostenkowski, a product of Chicago's fabled political machine who engineered U.S. tax policy, indulged in the perks of his job during 36 years in Congress and wound up in prison for misusing funds, has died, according to a Democratic official. He was 82.

He died today at his home in Wisconsin, the official said.

As chairman of the House Ways and Means Committee from 1981 to 1994, Rostenkowski was a Democratic rampart that three presidents had to navigate if they hoped to change U.S. tax laws as well as health and Social Security policies.

The grandson of Polish immigrants and protégé of legendary Chicago Mayor Richard J. Daley, Rostenkowski was "big, brash and bellowing — a door slammer and, at times, a bully," Jeffrey Birnbaum and Alan Murray wrote in "Showdown at Gucci Gulch: Lawmakers, Lobbyists and the Unlikely Triumph of Tax Reform," an account of the Tax Reform Act of 1986.

That law was Rostenkowski's best-known achievement. He worked with Republican President Ronald Reagan and other lawmakers to lower tax rates while ending enough deductions and shelters to avoid increasing the federal budget deficit.

He became something of a national celebrity for urging viewers, in a televised address, to send letters supporting tax reform to "Rosty, Washington, D.C." Tens of thousands of letters came in that way, and for a time "Write Rosty" buttons were the rage on Capitol Hill.

His long career ended in an indictment, lost reelection, conviction and prison sentence.
Since Bloomberg mentioned health policy, it's worth recalling that one of Rosty's worst political moments related to how he wanted to "reform" Medicare. As would be expected from a Democrat, it involved taxes and higher premiums. Eventually it was kicked to the curb. That's because as a YouTube courtesy of CBSNewsOnline shows, opposition was fierce.
The video's last few moments capture an exchange that could have come straight out the Democratic Party's 2010 playbook:
Rostenkowski (to a reporter walking alongside him as he was attempting to "escape," i.e., avoid talking to, an angry crowd of seniors): I don't think they understand what the government's trying to do for them. That's always been a problem.

Reporter: Do you sympathize with their anger on this?

Rostenkowski: No, I don't think they understand what's going on.
With all due respect to the late congressman, the upset seniors knew exactly what was going on then; many more of us understand it even better now.
Update, August 12, 10:00 a..m.: To be fair to AP, its primary story covering Rostenkowski's death began by telling readers that "Former Rep. Dan Rostenkowski, the Chicago Democrat who became the leading architect of congressional tax policy in the Reagan era but later went to federal prison for corruption, died Wednesday …"
To be critical of AP, there's a BIG problem with that statement: Ronald Reagan and his administration set "policy"; Rosty's and Congress's involvement was to write and to an extent influence the legislation that implemented Reagan's policy. Zheesh; it's as if AP wants to give Democrats credit for the 1980s tax cuts.
Cross-posted at NewsBusters.org.