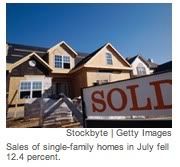 July's bad news in new home sales is even worse than it first appears.
The seasonally adjusted annual rate of 276,000 units is bad enough. That is an all-time low since records have been kept and 12% lower than June's annual rate. It's also lower than what analysts predicted by about the same percentage. The lazy business press is running with those figures.
But, as has been the case so many other times, it takes a trip to the raw (i.e., not seasonally adjusted) data, this time at the Census Bureau (large PDF), to fully comprehend the extent of the new-home market's collapse during this big, fat failed "Recovery Summer."
The raw data shows that 25,000 new homes were sold in the U.S. in July. That's not a typo, and it really is the figure for the entire country. Worse, that figure, the lowest July since records have been kept, is down by over one-third from July of last year, when the economy supposedly bottomed out, and by 42% from July 2008. I don't think you'll see those facts reported today.
Here is a graphic cap of a 10:07 a.m. report at Reuters carried at CNBC.com. It contains a jaw-dropper of a quote from an economist (red box is obviously mine):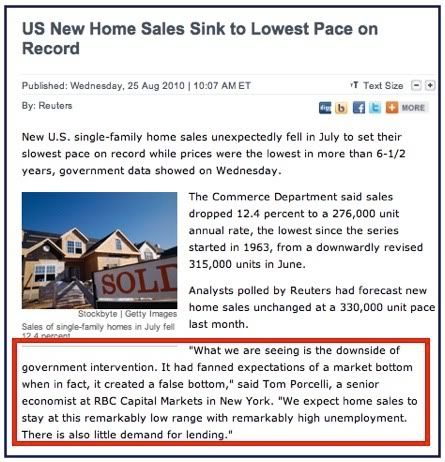 You have to wonder how widely reported Mr. Porcelli's in-your-face to the government will be, or if it will even survive future Reuters revisions.
As would be expected, no similar quote is present at the Associated Press, which used its time-honored business-reporting strategy of downplaying the awful news inside of two larger stories, one about the stock market's reaction and the other about the not as bad news about durable goods orders, instead of giving it the separate treatment it deserves.
Here are a few paragraphs from the two reports. To their credit, the authors of the first cited the lowest-on-record nature of the past three months' results, but without indicating the degree of the cratering:
(Daniel Wagner and Alan Zibel, "Recovery in danger as firms, homebuyers cut back," as of 12:09 p.m.)

The economic recovery appears to be stalling as companies cut back last month on their investments in equipment and machines and Americans bought new homes at the weakest pace in decades.

… Separately, Commerce said new home sales fell 12.4 percent in July from a month earlier to a seasonally adjusted annual sales pace of 276,600. That was the slowest pace on records dating back to 1963. Collectively, the past three months have been the worst on record for new home sales.

… The two reports are likely to stoke fears that the economy is on the verge of slipping back into a recession. They follow Tuesday's report that showed sales of previously owned homes fell last month to the lowest level in decades. Unemployment remains near double digits and job growth in the private sector is slowing.

… Housing has never fully recovered from the recession. Builders have been forced to compete with foreclosed properties offered at significantly lower prices.

(Stephen Bernard, "More bad news on home sales sends stocks lower," as of 12:04 p.m.)

The Dow Jones industrial average fell about 16 points in midday trading Wednesday following news that sales of new homes fell last month to the lowest level on record. It was the latest indication that home sales are stagnating after the expiration of a homebuyer tax credit this spring.

… New home sales fell 12.4 percent in July to an annual rate of 276,600, the Commerce Department reported. That was the slowest pace on records dating back to 1963 and worse than the pace forecast by economists polled by Thomson Reuters. A day earlier, the National Association of Realtors said sales of existing homes, a far greater proportion of the housing market, fell to a 15-year low in July.

… Despite the ultra-low borrowing rates, home sales have been weak since a home buyer tax credit expired at the end of April. High unemployment has kept people from buying homes, and banks still reeling from the crisis in the mortgage-backed securities market have been cautious in making new loans.
Note how the last excerpted sentence dodges Porcelli's contention at Reuters that "There is also little demand for lending." Banks are being cautious, but there's plenty of mortgage money out there for people who want to borrow (listen to the constant barrage of lender radio ads if you don't believe it). There's just little interest in doing so.
Cross-posted at NewsBusters.org.