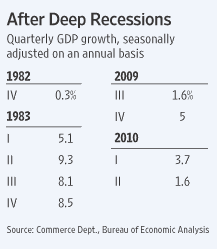 In an editorial today ("The 1.6% Recovery"):
… As recently as August 3, Treasury Secretary Timothy Geithner took to our competitor's pages to declare that this couldn't happen. "Welcome to the Recovery," he wrote, describing how the $862 billion government stimulus was still rolling out, business investment was booming, and the economy was poised for sustainable growth.

We all make mistakes, but the problem for the American people is that Mr. Geithner's blunder is conceptual. He and President Obama and their economic coterie really believe that government spending can stimulate growth by triggering private "demand," that tax rates are irrelevant to investment decisions, that waves of new regulation can be absorbed by business with little impact on costs or hiring, and that politicians can assail capitalists without having any effect on the movement of capital.

This has been the great Washington policy experiment of the last three years, and it isn't turning out too well. If prosperity were a function of government stimulus, our economy should be booming. The Fed has kept interest rates at near-zero for nearly two years, while Congress has flooded the economy with trillions of dollars in spending, loan guarantees, $8,000 tax credits for housing, "cash for clunkers," and so much more. Never before has government tried to do so much and achieved so little.

Now that the failure is becoming obvious, the liberal explanation is that things would have been worse without all of this government care and feeding. The same economists who recommended the stimulus are now producing studies, based on their Keynesian demand models, claiming that it "saved or created" millions of jobs, even as the overall economy has lost millions of jobs. The counterfactual is impossible to disprove, but the American people can see the reality with their own eyes.

The nearby table compares growth in the current recovery with the recovery following the recession of 1981-82, the last time the jobless rate exceeded 10%. The contrast is stark.

Then after three quarters the recovery was in high gear. Now it is decelerating. Then tax rates were falling, interest rates were coming down and the regulatory state was in retreat. Now taxes are poised to rise sharply, interest rates can't get any lower, and federal agencies are hassling business at every turn. Then business investment was exploding. Now companies are sitting on something like $2 trillion, reluctant to take risks when they don't know what new costs government might next impose on them.
"Three years." (Almost) exactly.
It has actually been 35 months since September 30, 2007, the last day of the final budget passed by the Republican-controlled Congress in 2006. Since then, it's been on Nancy Pelosi and Harry Reid, with disastrous results. When Barack Obama became the presidential nominee, we entered the POR (Pelosi-Obama-Reid) Economy, which gave us the POR Recession as normal people define it, followed by what has clearly been a "Rebound? What Rebound?" alleged "recovery."
Ronald Reagan faced arguably far more challenging circumstances: 13% inflation, 20%-plus interest rates, and double-digit unemployment. When he finally got 83% of the tax cuts he wanted (he was going for 10-10-10, he got 5-10-10), the economy boomed, as the WSJ's table at the top right clearly demonstrates.
What this bunch is doing isn't working. We're nearing a bust — and from here, when you look at their substance instead of their statements, it seems that they really don't care. If they did, they would start practicing Reaganomics, and abandon Obamanomics.
_______________________________________________________
UPDATE: The graphic below follows up on the issue raised by the first commenter —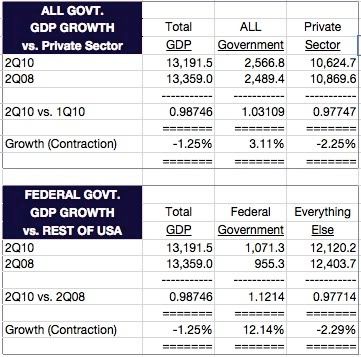 Purchases of goods and services by the private sector have declined by over 2.2% since the beginning of the recession as normal people define it, as have purchases of goods and services by all entities (including state and local governments) except the federal government.