The run-up:
As noted yesterday, ADP's employment report showed 10,000 private sector jobs lost.
Also as noted yesterday, the Wall Street Journal carried a prediction that "the unemployment rate is "expected to creep up to 9.6% as U.S. employers drop another 110,000 people off the payrolls." Just in time for the disengaged to start paying attention."
Here's the Associated Press, as of early Thursday evening: "The Labor Department is forecast to report Friday that private businesses added a net total of only 41,000 jobs last month, the fourth straight month of anemic hiring. When government jobs are included, total payrolls are forecast to drop by 100,000 – based mostly on about 115,000 temporary census jobs ending. The jobless rate is projected to rise to 9.6 percent from 9.5 percent, according to Thomson Reuters. Many economists expect growth to proceed at such a weak pace that the unemployment rate could top 10 percent by next year."
I haven't previously commented on the government's productivity report released yesterday. While manufacturing productivity ticked up nicely at an annualized +4.1% during the second quarter (meaning an actual 1.02%), productivity everywhere else fell by an annualized 1.9%. The AP's interpretation of this is that companies might be forced to hire people whether they really want to or not. I don' think so. If manufacturing stays flat, those entities will be able to get by with the people they have. In services, if topline revenues aren't increasing, companies won't be able to afford extra people, and will try to work those on board harder, especially those who are salaried (the second quarter result may indicate that such efforts have diminishing returns).
This Month's Benchmark
Readers here know that yours truly likes to look at the actual numbers (i.e., before seasonal adjustment). Last month, I was an outlier in saying that the July 2010 Employment Situation Report wasn't as bad as seasonalized, er, advertised. In fact, the 91,000 private-sector jobs added on the ground in the real world was the best July performance since 1999. Unfortunately for Team Obama, it got a bad break when the seasonalizers took over and turned the best July on the ground in over a decade into a mediocre seasonally adjusted +71,000. By contrast, in July 2006, BLS converted a 79,000 on-the-ground job loss in the private sector into a 158,000 seasonally adjusted gain. C'mon.
Seasonal, schmeasonal. The first 18 or so months of the POR (Pelosi-Obama-Reid) Economy (i.e., June 2008 through November 2009) are going to make the seasonally adjusted calculations screwy for a long time to come. Why others don't or won't recognize this point is beyond me.
Anyway, here are the on the ground private sector numbers for the past 7-1/2 years: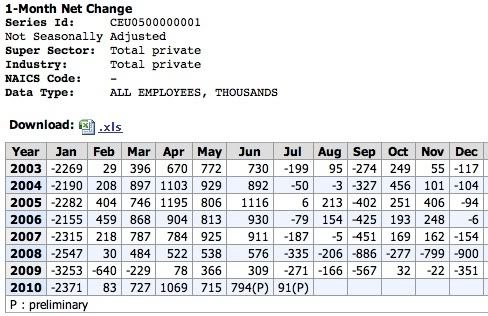 Treating August 2003-2007, which had average job additions of 90,000, as "typical," and given how good last month really was, I would suggest that an acceptable August on-the-ground performance would be 75,000 or more jobs added. Anything below that will indicate that July might have been a favorable blip, and nothing more. I'm benchmarking on a curve, as a repeat best-in-a-decade performance would require 214,000 net job additions. Also be on the lookout for possible downward adjustments to the June and July on-the-ground figures, and for excessive additions in the Birth/Death model.
Heaven knows how BLS will seasonalize all of this, but I hope the point that the seasonalization exercise has become divorced from reality is starting to sink in. The law of averages would seem to dictate that Team Obama might get an upward break in seasonalization this time around, and a PR boost heading into Labor Day.
The August report will appear here at 8:30 a.m.
Here's the first paragraph:
Nonfarm payroll employment changed little (-54,000) in August, and the unemployment rate was about unchanged at 9.6 percent, the U.S. Bureau of Labor Statistics reported today. Government employment fell, as 114,000 temporary workers hired for the decennial census completed their work. Private-sector payroll employment continued to trend up modestly (+67,000).
That looks like a "beats expectations," but the proof will be in the actuals.
Here's more (keep in mind that all figures are seasonally adjusted, so take with large amounts of salt):
… The number of persons employed part time for economic reasons (sometimes referred to as involuntary part-time workers) increased by 331,000 over the month to 8.9 million. These individuals were working part time because their hours had been cut back or because they were unable to find a full-time job.

… Manufacturing employment declined by 27,000 over the month. A decline in motor vehicles and parts (-22,000) offset a gain of similar magnitude in July as the industry departed somewhat from its usual layoff and recall pattern for annual retooling.

Within professional and business services, employment in temporary help services was up by 17,000. This industry has added 392,000 jobs since a recent employment low in September 2009.

… The change in total nonfarm payroll employment for June was revised from -221,000 to -175,000, and the change for July was revised from -131,000 to -54,000.
Those are nice prior-period revisions in the right direction totaling 123,000.
_____________________________________________________
UPDATE: Those looking for an Obama bash are going to be a bit disappointed for a second straight month. The actual result in the private sector beat the threshold by a lot:
If there's a qualifier, it's that 115,000 of the BLS's estimate of 131,000 jobs added on the ground came from the Birth/Death Model, and I do think that Birth/Death is generally being overestimated (otherwise, I don't think we would have seen the comprehensive 900,000-job writedown that occurred in February).
But even if you cut Birth/Death in half, the result would have been +73,500 (131,000 minus half of the 115,000 Birth/Death number). That's barely short of the +75,000 threshold set in advance.
August was also the second month during which more people were working than were during the same month a year ago, following a 27-month losing streak.
Thus, on balance, while August's on-the-ground number compared to previous normal-economy Augusts isn't nearly as good as July's compared to previous Julys, it's acceptable, but needs to accelerate in the coming months to be convincing.
All of this was deliberately written without reference to what media reports are saying, so it will be interesting later today or this evening to note the contrast, if any.
__________________________________________
UPDATE 2: As to the unemployment-related data, the unemployment rate went up primarily because (on a seasonally adjusted basis) more people started looking for work, and weren't particularly successful at finding it. Again on a seasonally adjusted basis, 290,000 more people were working in August than were in July. This result, plus the positive prior-month adjustments in the Establishment Survey noted above, may mean that there's more job growth occurring than the Establishment Survey is picking up. Let's hope so, for the sake of both the unemployed and the taxpayers who are funding their extended benefits.