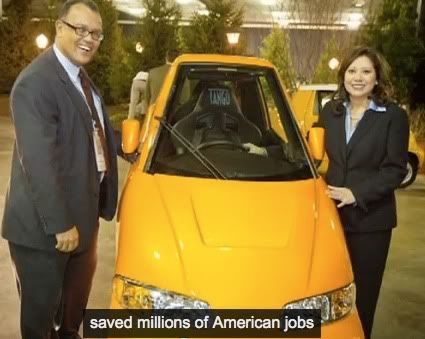 Obama administration Labor Secretary Hilda Solis (pictured at right with what I would guess is her ideal car of the future) shamelessly used Labor Day weekend as an opportunity to score political points.
In a presentation that was more a political stump speech than an informative presentation, Solis recited a litany of alleged accomplishments. Many of them have no relationship to what her department does, while some are also objectively wrong. Second, she set up a host of straw men in the form of "those who would" and "to those who want to" to make her department and the administration where she works appear as if they and they alone are the bulwark against rapacious employers and their political allies.
What follows is the YouTube video (direct link here), and selected transcribed excerpts:
Excerpts:
(3:10 – 4:30) You can be certain that like the president, I will not stop working until every American is back on their feet and we have fulfilled our mission to provide good and safe jobs for everyone.

We're making important inroads towards that goal. So let me tell you, briefly, what we have done so far to get there.

First and foremost, we have reversed the dangerous trend of job loss in our country. Because, just over a year ago, we were losing almost 700,000 jobs per month. We were on the verge of another Great Depression. We took immediate action to stop the bleeding and create jobs. Now, instead of losing jobs, we've actually added them in the private sector every month. We've averaged about 90,000 jobs for the last seven months.

But something else too, and this is important, our efforts, most notably the American Recovery and Reinvestment Act of 2009, saved millions of American jobs in the auto manufacturing industry. [1] These efforts have also kept health care workers in clinics and community hospitals. They've kept hundreds of thousands of teachers in classrooms, and police and firefighters on the beat where they should be.

(4:50 – 4:58) Now we are making it possible for American entrepreneurs to create and grow businesses that will put people to work. [2]

(5:10 – 5:50) As a result of our quick and bold actions, millions of people are at work, building and rebuilding America's roads, bridges, ports, and high-speed rail. [3]

And we're also investing in a new American foundation, and a whole new American industry and employer, and that's clean energy.

We look at that investment two ways. Advances in biofuels, wind, and solar power will reduce our dependence on foreign energy, and reenergize American manufacturing. I've long believed that green jobs can be great jobs, and jobs that every American can take advantage of.

(6:12) I am pleased that this administration is making student loans more affordable and available.

(6:40) Now, as we've done all that, we've also strengthened the safety net for American workers. We've expanded unemployment insurance programs in nearly 40 states so more people can receive benefits. And after decades of failing to rein in the out-of-control health care system, our reforms will control costs, improve care, minimize fraud, and provide security for millions of American families.

(7:23) In the weeks and months ahead, policymakers will be debating what should come next. There are some who will suggest that, when times are tough, it's time to get tough on working people. [4] They'll suggest that we cut back on worker training, to cut back on worker safety, and to cut back on giving workers a voice in their workplace. I totally disagree.

To those who say we can no longer afford to train, retool and educate our workforce, I say we can't afford not to. To those who want to cut corners and disregard safety in the workplace, I say keeping workers safe matters far more than saving a few cents.

And to those who want to deny workers a voice in the workplace, let me be clear: This Secretary of Labor recognizes, respects, and celebrates a worker's right to organize and bargain collectively.

As individuals and as a nation, we have very important choices to make. And each one merits careful and informed discussion. So in the weeks and months ahead, I hope we can continue this conversation. Each and every one of us has something at stake. And we simply cannot afford to make the wrong choices.
Here are three obvious errors in Solis's presentation:
[1] – The "auto manufacturing industry," even at is most broadly defined (which would include all transportation equipment, all motor vehicle and parts dealers, has only three million employees. The Labor Secretary is essentially claiming that there would be no industry without the stimulus plan. Other than to point out that Government/General Motors and Chrysler proactively killed tens of thousands of jobs at auto dealers, this claim is so utterly ridiculous as to require no further comment.
[2] – Even ignoring individual initiative, it's as if this administration is the first in recorded human history to "mak(e) it possible for American entrepreneurs to create and grow businesses that will put people to work." She's kidding, right?
[3] – The total number of employees in "Heavy and civil engineering construction" was 888,000 in August (not seasonally adjusted). Even if you try to include a healthy percentage of the 2.1 million employed in the "Nonresidential specialty trade contractors" sector, many of whom obviously have nothing to do with infrastructure, there's no way you get to "millions" of infrastructure workers, period, let alone "millions" who are working solely because of the administration's "quick and bold actions."
[4] – Seriously now, who has suggested this, or any of the other conveniently created straw men that follow?
Yes, Bush administration Labor Secretary Elaine Chao did give Labor Day addresses such as this one in 2002. But if she had created something as blatant as this video, the press would have been all over her for playing politics during the entire Labor Day weekend. As it is, I doubt we'll see much if any criticism of Solis from the establishment press.
In a separate action, DOL removed the following opening paragraph from a web page on the history of Labor Day (original preserved at archive.org; revised) that had contained the same text for at least eight years:
"Labor Day differs in every essential way from the other holidays of the year in any country," said Samuel Gompers, founder and longtime president of the American Federation of Labor. "All other holidays are in a more or less degree connected with conflicts and battles of man's prowess over man, of strife and discord for greed and power, of glories achieved by one nation over another. Labor Day…is devoted to no man, living or dead, to no sect, race, or nation."
More on why I believe that removal of Gompers's statement occurred can be found here.
Cross-posted at NewsBusters.org.