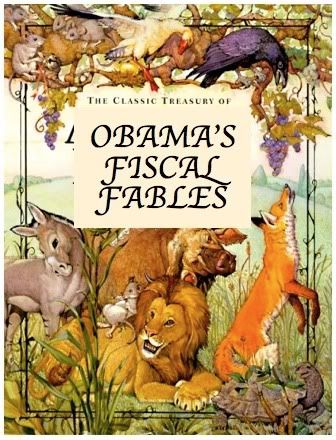 Note: This item went up at the Washington Examiner's OpinionZone blog and was teased here at BizzyBlog on Thursday.
_________________________
Yesterday's release of the Congressional Budget Office's "Monthly Budget Review" covering the first eleven months of Uncle Sam's current budget year is an ideal time to preview what I expect will be the Obama administration's and the establishment business press's three big fiscal fables going into this fall's elections.
Fable 1. The annual budget deficit is down.
This is true only if one ignores the impact of a mighty convenient $115 billion non-cash accounting entry made back in March. There's more background here for those who are interested in the nitty-gritty, but my in-a-nutshell, plain-English assessment made at the time it was disclosed will suffice for now:
… the administration pushed as much "bad news" (TARP asset writedowns) as it could into last year's financial reporting, since last year (fiscal 2009) was going to be a disaster no matter what. But since they overdid it with the writedowns last year ("Gosh, how did that happen?"), they can make this year (fiscal 2010) look better than it really has been.
That the entry had to be made in fiscal 2010 essentially proved that fiscal 2009 outlays were overstated by $115 billion. At the same time, the entry worked to reduce current year outlays by the same amount.
Here is how the first eleven months of fiscal 2009 and 2010 would have looked if TARP asset writedowns had been properly estimated last year and had not required offsetting correction this year:
(more…)