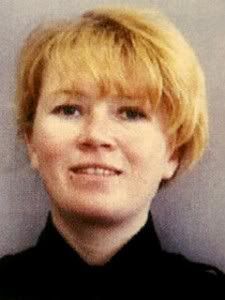 Note: Cassy Fiano at David Horowitz's NewReal Blog "I wanted to spotlight just a few of the incredible heroes of that fateful day." This is the first of five such tributes (go there for the full report).
* * * * *
Moira Smith, NYPD
Officer Moira Smith was a 13 year veteran of the New York Police Department. She was married to another NYPD officer, Jimmy Smith, and had a two-year-old daughter named Patricia. Officer Smith had shown heroism in the line of duty before, earning the Police Department's Distinguished Duty Medal for her actions during the Aug. 27, 1991 subway crash in Union Square in which five were killed and more than 130 hurt. She saved dozens of lives that day, and on September 11, she would selflessly risk her life again to help other victims get out safely.
… Smith put her life in danger to rescue people trapped in the World Trade Center, and ultimately, made the ultimate sacrifice that day. She was posthumously awarded the New York City Police Department's Medal of Honor for her heroism that day. Her remains were recovered in March of 2002, and an East River high-speed ferry was named for her. Of the 23 NYPD officers killed on September 11, she was the only female. She was finally laid to rest on what would have been her 39th birthday.