Summer is departing soon, as today is the last official day of summer.
Larry Summers is reportedly departing — no, is officially departing — the Obama administration at the end of the year.
"Recovery Summer" (aka the predicted summer of "Rebound? What Rebound?") never arrived.
I don't recall a previous administration where three key economic advisers at such a high level (Budget Director Orszag, Council of Economic Advisers Chair Christine Romer, and now National Economic Council head Summers) all left within two years of a new president's inauguration. The closest parallel might be the initial years of the Clinton administration, when Budget Director Leon Panetta, NEC head Robert Rubin, and Treasury Secretary Lloyd Bentsen all left within two years. But two of those gentlemen stayed with the administration in other capacities, with Rubin heading up the Treasury Department. You can also find similarly short stints during Jimmy Carter's and Richard Nixon's first term; but I believe that in both cases at least one of the people involved moved to another position within the administration.
I don't think Romer, Summers, or Orszag will ever be coming back to Obamaland. I can't say I blame them. I do blame them for being enablers of trillion-dollar deficits as far as the eye can see.
____________________________________________________
According to Bob Woodward (an admittedly shaky source), it looks like President Obama made Afghanistan into Vietnam all over again:
Frustrated with his military commanders for consistently offering only options that required significantly more troops, Obama finally crafted his own strategy, dictating a classified six-page "terms sheet" that sought to limit U.S. involvement, Woodward reports in "Obama's Wars," to be released on Monday.

According to Woodward's meeting-by-meeting, memo-by-memo account of the 2009 Afghan strategy review, the president avoided talk of victory as he described his objectives.
O.M.G. We can only hope that David Petraeus, when he succeeded Stan McChrystal, put a stop to this nonsense.
Update: It gets worse –
I'm not doing long-term nation-building. I am not spending a trillion dollars," he reportedly told Defense Secretary Robert Gates and Secretary of State Hillary Clinton in October 2009. "I want an exit strategy," he said at one meeting. Privately, he told Vice President Biden to push his alternative strategy opposing a big troop buildup in meetings.

While Obama ultimately rejected the alternative plan, the book says, he set a withdrawal timetable because, "I can't lose the whole Democratic Party."
____________________________________________________
From the "You Should Have Thought About That Before Supporting ObamaCare" Dept.:
Catholic legal experts warn HHS against requiring coverage of contraception and sterilization
Many if not most Catholic bishops were okey-dokey with ObamaCare as long as it doesn't fund abortions (which it really will anyway, sooner or later, if not repealed). Why is anyone surprised that OCare will cover contraception?
____________________________________________________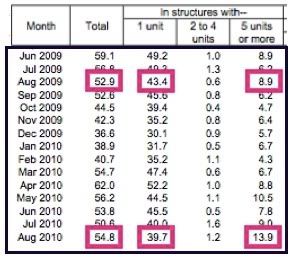 The administration and its establishment media acolytes are so desperate for anything they can call economic good news, or at least not bad news, that they're calling why you see on the right good news:
US housing starts at 4-mth high, hint at stability

Groundbreaking for new U.S. homes jumped in August to a four-month high, a tentative sign of stability in the housing market after steep declines brought by the end of a homebuyer tax credit.

Analysts said the data on Tuesday, which came as Federal Reserve policymakers met to assess the economy, further allayed fears that the recovery from the worst recession since the Great Depression was at risk.

It also strengthened the argument against the U.S. central bank announcing any new monetary policy easing steps at the end of Tuesday's meeting.

"It suggests we have hit bottom (in housing)," said David Wyss, chief economist at Standard & Poor's in New York.
Uh, not really, David. The raw (not seasonally adjusted) numbers on the right representing the Census Bureau's estimate of what really happened tell us that while there was a slight increase in total starts from August 2009, single-family starts plummeted 8.5%, while multi-unit starts zoomed.
The single-family figure of 39,700 above is the lowest for any August on record going back to 1959 (full Census Bureau PDF is here). Last year's 43,400 single-family figure was the previous record low for any August.
The numbers are of course slightly different, but with building permits (full Census Bureau PDF is here) the story is the same — single-families down, multi-units way, up, and consecutive all-time August lows for single-families.
Sorry, Reuters and David Wyss. These aren't indicators of "stability," nor do they indicate that "we have hit bottom." They're just more bad news.