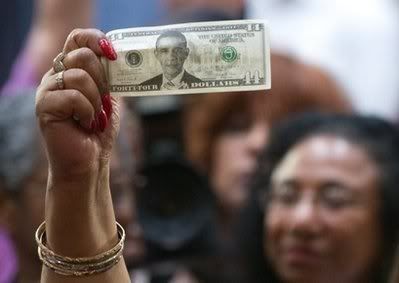 So who do you believe, ISM or ADP? Or will it be Uncle Sam on Friday?
On Tuesday, the Institute for Supply Management released its Non Manufacturing Index (NMI), which showed that the 80% or so of the economy that isn't involved in manufacturing was expanding at a faster pace during September (with a reading of 53.4) than it was in August (at 51.5). Any reading over 50 indicates expansion. This was good news.
The big change in the underlying NMI data was in new export orders, which went from contracting (46.5) to hugely expanding (58.0). If there's a reason for the suddenness of the change (a reason justifying a gradual move would be the weakening dollar making our exports more attractive), I don't know what it is. The employment component of NMI went into bare expansion (50.2) from contraction (48.2) a month earlier.
This morning, payroll and benefits giant ADP, in its monthly employment report, threw ice cold water on the hopes of those who think that we might finally have found the bottom of the private employment market (bolds are mine; paragraph breaks added by me):
Private-sector employment decreased by 39,000 from August to September on a seasonally adjusted basis, according to the latest ADP National Employment Report® released today. The estimated change of employment from July to August was revised up from the previously reported decline of 10,000 to an increase of 10,000.

The decline in private employment in September confirms a pause in the economic recovery already evident in other data. A deceleration of employment occurred in all the major sectors shown in The ADP Report and for all sizes of payroll.

The September decline in employment followed seven monthly increases from February through August. However, over those seven months, the average monthly gain in employment was 34,000.

There simply is no momentum in employment.
O-U-C-H.
Even the prior month upward revision is in a sense bad news, because that means the downward swing from last month was 49,000 (from +10 to -39). (Update: Speaking of swings, ADP's result was 63,000 below expectations (-39 vs. +24 expected.)
In his report on the markets' reaction to the ADP news, Associated Press reporter Stephen Bernard did a good job of looking back at ADP's data and comparing it to the government's reported private-sector employment results. Bernard also noted as a fact (because it is) what many of us have been saying for months (i.e., "It's the Uncertainty, Stupid"), which also happens to be what I've been saying since I identified the beginning of the POR (Pelosi-Obama-Reid) Economy in July 2008:
The ADP report usually below comes in below the government's measure of total private payrolls. So far this year, the average difference has been about 75,000. That means Friday's report could show a net increase in private hiring. But the ADP figure does suggest that current forecasts for a gain of about 75,000 private sector jobs could be too high.

Uncertainty about costs from health care and financial regulatory reform as well as potential changes to taxes have been major reasons companies have shied away from adding new jobs.
A major factor missing in Bernard's list is energy.
The monthly 75,000-job difference Bernard cited amounts to 900,000 jobs in a year. That's more than a rounding error; it's a "something's gotta give" situation.
Last year, what gave was the government's data:
In its regular October 2009 employment report, Uncle Sam's Bureau of Labor Statistics preliminarily estimated that it had overstated the total number of jobs in its Establishment Survey by 824,000 jobs (855,000 in the private sector).
After finalization in March, the result was -902,000 jobs (-933,000 in the private sector).
I have confirmed in a phone conversation with BLS that it will release the preliminary estimate of its March 2011 comprehensive adjustment in the September Employment Situation Report on Friday, October 8. Given the ADP vs. Uncle Sam divergence (which goes back much further than a year) and the fact the BLS's shaky Birth/Death model added 336,000 not seasonally adjusted untrackable, but "we somehow know they're out there" jobs during the period from April 2009 through March 2010, we may see an "October surprise" that the administration and Democratic incumbents up for reelection will really, really not appreciate.
Stay tuned.