To be clear, I've always been skeptical of this category, which consists of people who are NOT considered part of the official unemployment rate calculation. During times when help-wanted signs are everywhere, you can't help but question the sincerity of many who are in this position (that said, I understand the basic-skills problem, and that many in this category would love to be able to do something, anything; someday I'd like to do an education system-related post about that).
The year-over-year comparison for this stat, after mostly improving, if marginally, from April through July, has gone the wrong way during the past two months, and to a serious extent: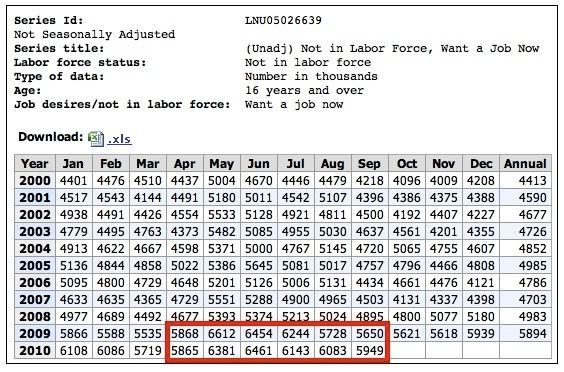 If these folks were included in the official unemployment stats, they would add about 4.8% to the unemployment rate by themselves (they are, as best I can tell, NOT part of the "U-6″ calculation, which came in at a seasonally adjusted 17.1% this month, up from 16.7% in August).
+++++++++++++++++
Update, Oct. 20 — This info at ShadowStats using seasonally adjusted data indicates that including "long-term discouraged workers," which they say hasn't been done since 1994, would push the fully-loaded unemployment rate to 22.5%. The word "NOT" has thus been added to the last sentence before this update.
+++++++++++++++++
This should not be happening during a genuine economic recovery. But it is, because we aren't in one. Instead, we've just completed the Summer of "Rebound? What Rebound?"