To the national establishment press, this appears to be another one of those "It's at the Politico, so we can ignore it" incidents.
Thursday night, before a debate with GOP opponent George Phillips, nine-term New York Democratic Congressman Maurice Hinchey "had a heated exchange with a local reporter … that became physical." Quite physical, in fact, to the point where Hinchey "pushed … (the reporter) backwards into Phillips himself."
Seems like pretty big news, doesn't it? Not based on the results of a Google News search on "Hinchey debate" (not in quotes) done at 8:30 this morning: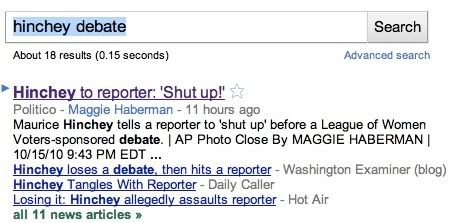 Wow, 11 whole articles.
Clicking to get to the detail reveals that there are even fewer results than originally indicated: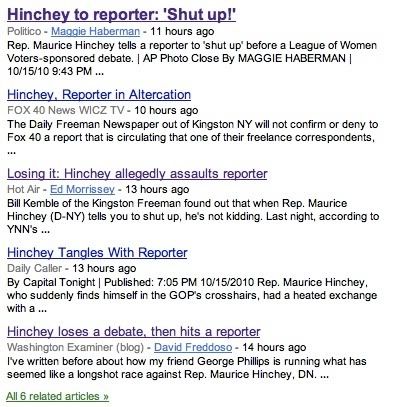 Clicking to find the sixth result revealed this report out of Binghamton, New York.
The reporter involved, William J. Kemble, is a correspondent for The Daily Freeman in Kingston, New York. In May, the paper's Ariel Zangla began a report (HT Hot Air) about a development in nearby Saugerties as follows:
U.S. Rep. Maurice Hinchey has a financial interest in the Partition Street Project, which is to be constructed within the village for which he secured $800,000 in federal funding for a sewer infrastructure project his office called "critical to the village's commercial future."

Hinchey, however, says there is no connection between his official actions and the project and that he is not directly involved in the commercial development of the Partition Street property.
Zangla's lengthy piece identifies a lot of questionably ethical smoke, and it appears to be what has aroused Hinchey's ire.
Oddly, the Daily Freeman has no coverage of the incident involving its own reporter, who covered Thursday's debate in this story.
+++++++++++++++
Update, Oct. 17: The Freeman has responded in a statement posted at Hot Air, saying, among other things, that "the Hinchey camp's characterizations of the incident as either prompted by aggressive action by Mr. Kemble or by false accusations they claim he and the Freeman have made are untrue."
+++++++++++++++
Imagine if New York Congressman Peter King, who has seniority equal to Hinchey's, had pushed a reporter before a debate and told that reporter to "shut up!" Does anyone think that the New York Times or the Associated Press would have ignored it as they have clearly done in the Hinchey incident (as shown in searches on "Hinchey" at 9:30 a.m. here and here, respectively)? Neither do I.
Another angle: Why isn't the HInchey-Kemble incident, which involved a push, getting anything resembling the attention the incident between Empire State GOP gubernatorial candidate Carl Palladino and New York Post reporter Fred Dicker, which as far as I can tell didn't?
As noted earlier, if something adverse to a Democrat gets covered at the Politico, it appears to give the rest of the establishment press's excuse to ignore it. "Been there, done that, olds news, everybody knows about it already." Sure, guys. This also has the distinct aroma of, "Maybe if we ignore this, our guy will survive Phillips's challenge," which looks more formidable with each passing day.
Cross-posted at NewsBusters.org.