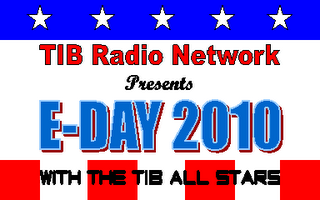 Forget ABC-CBS-NBC-MSNBC-CNN-HLN-CNBC-PBS-NPR-Comedy Central.
TIB (Truth In Broadcasting) will be on tonight, covering the midterm elections. TIB is the place to be on E-Day Evening 2010.
(Okay, if you want to have Fox on with the volume off in close caption, I suppose we'll allow that.)
The proprietors of the esteemed, universally acclaimed, and possibly longest-running political blog in Ohio (since August 2003), Weapons of Mass Discussion, namely Matt "People Know Him" Hurley and Mark "The Whole Damn Show," along with yours truly, will be providing news, information, insight, and analysis as the night's results unfold.
Matt's special collection of dilithium crystals will activate the palatial studio's power supply and fire up the microphones (update: and the brand-new, state-of-the-art phone system!) at 6 PM ET.
The web page for the broadcast is here. Feel free to participate in the live blog when the time comes.
Do we dare dream of triple-digit GOP gains and a Senate majority on "E-Day 2010″? Only if an unprecedented wave of sensible conservatives gets out and votes is it even possible.
But if-if-if that happens, based on the latest at RCP, it is possible.
In the House, RCP is showing a "firm" pickup of 46 (224 vs. the current 178). There are 42 toss-ups. There are 22 Leans Dems. That's +110. I think a couple of potential GOP upsets are also lurking in the Likely Dems.
In the Senate, RCP has 45 GOP and 7 Toss-ups. Six of those appear winnable. I also think there's another surprise or two lurking in the Leans and/or Likely Dems.
Yeah, it's possible.
Tune in tonight and see how possible.