Econ Catch-up:
On Wednesday, the Institute for Supply Management reported that its Non Manufacturing Index went further into expansion in October, moving from 53.2 to 54.3 (anything above 50 indicates expansion). As was the case with the improved Manufacturing Index ISM reported on Monday, the accompanying comments were strangely downbeat to neutral compared to the index number. The employment component of the index improved and was slightly positive for the second month in a row.
Also on Wednesday, ADP's Employment Report came in with 43,000 seasonally adjusted jobs added in the private sector during October. September was revised nicely, from -39k to -2K.
Again on Wednesday, the car companies reported their sales. Overall industry sales were up 13.4% year over year, with a significant divergence. Car sales were up just 3.3%, while light trucks were up 23.5%. As to specific companies:
Government/General Motors, up 4.2%, beat expectations of a slight decline but still lagged the industry. The irony is that GM's vehicle mix is tilting heavily towards those supposedly eeeeevil light trucks (up 11.5% from October 2009 and 16.1% year-to-date) vs. cars (down 8.6% and 6.1%).
Ford was up 19.4% over October 2009, also beating expectations, with the gains spread evenly among cars and light trucks.
Chrysler continued on what appears to be a more legitimate recovery path than GM, as its October 2010 was 37% higher than October 2009. Like GM, its October improvement was pegged far more to light trucks (+44.6%) than cars (+16.0%). Chrysler's current and year-to-date sales mix is more tilted towards light trucks (more than 3-to-1 compared to cars in both cases) than any other major makers.
Toyota was down 4.4%. Uncle Sam's and the media's orchestrated campaign against the company, which is showing signs of being exposed as an utter sham, appears to be having its desired effect from the government's perspective.
Rounding out the Big Six, Honda (+15.6%) and Nissan (+16.1%) had strong months.
Many other smaller makers turned in very strong numbers, including Hyundai (+37.6%), Kia (+38.7%), Subaru (+25.0%), and Volkswagen (+17.9%).
On Thursday, the Department of Labor reported that seasonally adjusted initial unemployment claims increased from the previous week. The government also reported an upward revision to the prior week's number for the 15th week in a row. The raw number of initial claims was only about 13% below last year's figure.
Employment Report Run-up:
The Not Seasonally Adjusted (NSA) BizzyBlog Benchmarks (graphics will come later, perhaps not until this evening):
Private sector — Based on reviewing prior-year numbers, it needs to be +225k to be considered acceptable, regardless of how the seasonally adjusted number comes in.
Overall — Based on reviewing prior-year numbers, it needs to be +750k to be considered acceptable, regardless of how the seasonally adjusted number comes in.
The report will be here at 8:30 a.m. (HTML version of entire release will be here).
Here it is, and it's a mixed bag:
Nonfarm payroll employment increased by 151,000 in October, and the unemployment rate was unchanged at 9.6 percent, the U.S. Bureau of Labor Statistics reported today. Since December 2009, nonfarm payroll employment has risen by 874,000.

… The number of unemployed persons, at 14.8 million, was little changed in October. The unemployment rate remained at 9.6 percent and has been essentially unchanged since May.

… Total nonfarm payroll employment increased by 151,000 in October, reflecting job gains in mining and a number of service-providing industries. Private-sector payroll employment rose by 159,000 over the month; since December 2009, employment in the private sector has risen by 1.1 million. (See table B-1.)

Within professional and business services, employment in temporary help services continued to increase in October, with a gain of 35,000. Temporary help services has added 451,000 jobs since a recent low in September 2009. Employment in computer systems design and related services increased by 8,000 in October and has risen by 53,000 since a recent low in June 2009.

The change in total nonfarm payroll employment for August was revised from -57,000 to -1,000, and the change for September was revised from -95,000 to -41,000.
Fairly good news (finally) on jobs added, but the unemployment rate stays the same. Note that temp services is responsible for 40% of the private payroll gain this year (451K divided by 1.1 million). If a Republican were president, the press would be calling this a "temp economy," as it has done in past GOP administrations with far flimsier evidence.
The irony of the employment gain being partially ascribed to pickups in mining in an administration that wants cap and trade, which would devastate the industry, should not be overlooked.
The prior-period changes were also good news, meaning that the BLS's current best estimate is that 261,000 more people (151K current, 56K pickup from August, and 54K pickup from September) were working at the end of October than it estimated were working at the end of September.
Sadly, the seasonally adjusted unemployment rate really went up, if you extend the numbers:
September — 14.767 mil divided by 154.158 mil = 9.579%
October — 14.843 mil divided by 153.904 mil = 9.644%
Compared to September (again, seasonally adjusted), October had more unemployed, and a quarter-million fewer people in the labor force. Saved by the rounding, so to speak.
In fact, compared to a year ago, the civilian adult population is up by 2 million, but the number of people in the labor force is the same. Therefore the number of adults in the labor force is also up by 2 million. This is not good, and it's not sustainable.
More later, perhaps as late as this evening.
_________________________________
UPDATE, Nov. 9: Didn't get to this because of a number of conflicts, but finally, here's how the NSAs and SAs turned out: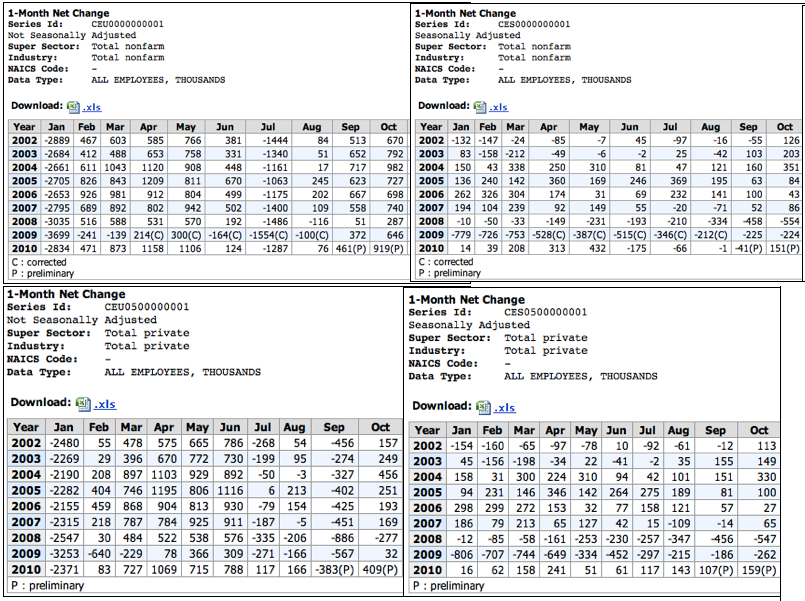 The actuals beat my in-advance benchmarks by substantial amounts (919K vs. 750K in the overall, 409K v. 225K in the private sector). Both numbers are the best since 2004. The Birth/Death estimate is relatively small at 61K.
I don't see how you can complain about this result. It (meaning "numbers that are as good or almost as good as the best years of the mid-200os") just needs to happen about 20 more times.
It should also be pretty clear that the administration is getting bad breaks from the seasonal adjustment calculations:
In 2004 overall, 982 NSA led to 351 SA. In 2010, 919 SA led to only 151K SA. Huh?
In 2004 private sector, 456 NSA led to 330 SA. In 2010, 409 SA led to only 159K SA. Again, huh?
I'd be more reassured that something resembling a legitimate recovery is finally underway is the "A" information (used to calculate the unemployment rate) weren't showing a still-shrinking workforce and a dropping jobless rate. But they aren't.