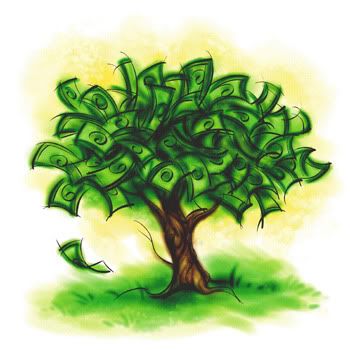 Before critiquing, I should recognize that USA Today, while most of the establishment press has snoozed, has done a very creditable job of exposing the wide differential between federal employee and private-sector pay (Aug. 10, 2010; "Federal workers earning double their private counterparts"), and of identifying the outrageous degree by which salaries in the upper levels of Uncle Sam's empire are expanding (Dec. 11, 2009; "For feds, more get 6-figure salaries").
Yesterday, in a mostly well-done report, USAT's Dennis Cauchon, who also authored the two linked items in the previous paragraph, delved into many of the details concerning the growing number of federal employees who get paid $150,000 or more per year. Among his more important points is the fact that a great deal of the expansion into this high level of pay has occurred since President Obama took office, during a period when overall inflation has been very low:
More federal workers' pay tops $150,000

The number of federal workers earning $150,000 or more a year has soared tenfold in the past five years and doubled since President Obama took office, a USA TODAY analysis finds.

… Federal salaries have grown robustly in recent years, according to a USA TODAY analysis of Office of Personnel Management data. Key findings:

• Government-wide raises. Top-paid staff have increased in every department and agency. The Defense Department had nine civilians earning $170,000 or more in 2005, 214 when Obama took office and 994 in June.
• Long-time workers thrive. The biggest pay hikes have gone to employees who have been with the government for 15 to 24 years. Since 2005, average salaries for this group climbed 25% compared with a 9% inflation rate.
• Physicians rewarded. Medical doctors at veterans hospitals, prisons and elsewhere earn an average of $179,500, up from $111,000 in 2005.

Federal workers earning $150,000 or more make up 3.9% of the workforce, up from 0.4% in 2005.

Since 2000, federal pay and benefits have increased 3% annually above inflation compared with 0.8% for private workers, according to the Bureau of Economic Analysis. Members of Congress earn $174,000, up from $141,300 in 2000, an increase below the rate of inflation.

Jessica Klement, government affairs director at the Federal Managers Association, says the government's official pay analysis shows that federal workers earn less than private workers for comparable jobs. Still, she says, managers are willing to give up next year's (Obama-proposed 1.4%) raise: "If it will help the country bounce back, they're willing to make the sacrifice."
Well, that's mighty nice of Ms. Klement, but she, and Cauchon, overlooked a few key points:
The first is that even if there is no officially declared pay raise this year, most federal employees will earn — excuse me, "get paid" — more next year. That's because federal employees also typically receive seniority-based pay hikes known as "step increases." These typically average about 1.5%. Cauchon made this point in his December 2009 report; he should also have done so in this one.
I haven't seen the "official pay analysis" for "comparable jobs" to which Ms. Klement refers. But I'd like to see the study telling me that "comparable" doctors have seen their earnings climb by 62% ($179,500 divided by $111,000) in the past five years.
Again regarding the "pay analysis," I'd like to see the reports documenting which "comparable jobs" in the private sector have 5-year track records of pay increases of triple the overall rate of inflation. I will suggest that this has occurred somewhere between rarely and never in "comparable" private-sector occupations.
A comparison of salaries is fine, but a complete picture would have to consider the entire compensation and benefits package, which is far more generous in the government than what is found in the private sector. Cauchon did look at benefits in his August report on federal vs. private pay on the whole, and found that federal civilian benefits average $41,791, compared to $10,589 in the private sector.
There are several comparative points I'm leaving on the table, including but not limited to relative job-loss risk and number of hours worked.
Burgeoning federal pay is a key explanation as to why federal spending is out of control, and continues to be. USAT's Cauchon did a good job of documenting his basic findings, but needed to get to the items I noted to give his readers the necessary overall understanding of the just how outrageous and dangerous the situation really is.
Cross-posted at NewsBusters.org.