Political Calculations has done some brilliant work on the so-called "decline of corporate tax revenues," which I wish to supplement.
PoliCalc quotes a 2003 report from the leftist thought-free "think tank" known as the Center on Budget and Policy Priorities:
… corporate revenues will remain at historically low levels even after the economy recovers, and even if the large new corporate tax breaks enacted in 2002 and 2003 are allowed to expire on schedule.
It didn't exactly turn out that way.
Here is how corporate income tax receipts have come in during the past nine fiscal years, along with their respective percentages of all government receipts, graphically illustrated for the benefit of commenter dscott and other "must have charts" devotees (from Table 3 at about the fourth page of the September Monthly Treasury Statement for each year involved):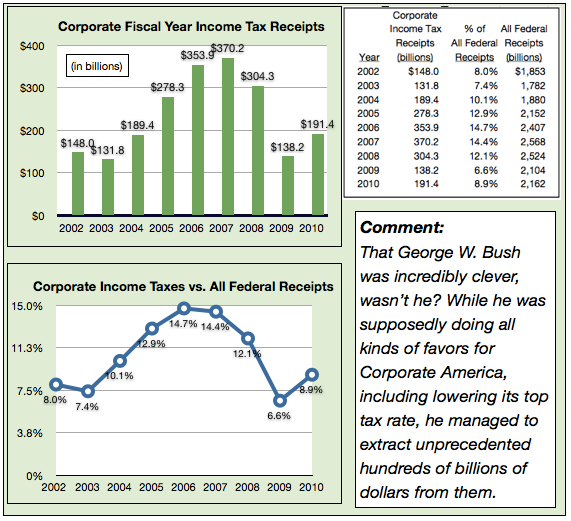 The collections numbers for 2005, 2006, and 2007 were all-time records for corporate income-tax collections. The previous record was $207.3 billion in 2000.
PoliCalc also points out that the leftists conveniently ignore the fact that all kinds of other taxes have been imposed on corporations during the past decades (state income, local income, excise, gross receipts, etc.) that have swelled government coffers (which they have proceeded to empty with reckless abandon) and which have made the corporate income tax, despite its substantial haul during good times, a less important element of overall government receipts than it used to be.
Readers will note that in the middle of calendar 2008 (the final 3-4 months of the fiscal year that ended on September 30), something happened that caused corporate income tax receipts to begin a steep decline that has only partially been recovered. That event, of course, was the inception of the POR (Pelosi-Obama-Reid) Economy, in whose statist-oriented grip we remain.