The unemployment rate jumped to a seasonally adjusted 9.8% in November and only 39,000 seasonally adjusted jobs were added during the month, according to the Employment Situation Report released yesterday by Uncle Sam's Bureau of Labor Statistics.
Although she at least recognized the report's negativity, Lucia Mutikani at Reuters seemed bent on downplaying its impact, even finding an "expert" who characterized the BLS's work as an "outlier" in her Friday evening write-up. Nobody's claiming the folks at BLS are perfect, but I cannot recall a time when an establishment press wire service reporter has questioned the Employment Situation Report's underlying validity. Despite its supposed lack of credibility, Ms. Mutikani still used the information provided as an excuse to insert a point about how it should cause Fed chief Ben Bernanke to continue the "money from nothing" enterprise euphemistically referred to as "quantitative easing."
Of special note was Ms. Mutikani's bizarre contention that the seasonal adjustment calculations might be flawed. Unfortunately for her, comparisons of actual results on the ground (i.e., the not seasonally adjusted numbers) to the seasonally adjusted numbers that resulted were consistent with November 2004, the last comparable year. This has not always been the case in the volatile economy of the past 2-1/2 years.
Here are the first eight paragraphs from Ms. Mutikani's morose musings (bolds and number tags are mine):
U.S. employment barely grew in November and the jobless rate unexpectedly hit a seven-month high, hardening views the Federal Reserve would stick to its $600 billion plan to shore up the anemic recovery. [1]

Nonfarm payrolls rose 39,000, with private hiring gaining only 50,000, just a third of what economists had expected, a Labor Department report showed on Friday. The unemployment rate jumped to 9.8 percent from 9.6 percent in October.

The weak report was a surprise given the relative strength of some other recent economic signals, [2] including robust retail sales. Economists had expected 140,000 new jobs and a steady unemployment rate.

While the data raised a warning flag, many analysts cautioned against reading too much into it.

"The report comes as an unwelcome bucket of cold water," said Nigel Gault, chief U.S. economist at IHS Global Insight in Lexington, Massachusetts. "We're reluctant to take it at face value and suspect that it is an outlier — on the downside — but it does underline that the recovery remains a gradual one." [2]

Stock market investors also appeared to be in disagreement with the weak hiring number, and U.S. shares closed marginally higher. Prices for long-dated U.S. government debt fell while the dollar dropped across the board. [3]

A separate report from the Institute for Supply Management showed service sector activity rose in November [4], with a gauge of hiring reaching its highest level since October 2007 [5], before the economy tumbled into recession.

Payrolls for September and October were revised to show 38,000 more jobs were gained in those months than previously estimated, taking some sting out of the report. [2] Some economists said November's data was likely distorted by the way it was adjusted for seasonal fluctuations [6] and said they expected a snap back in December.
Points:
[1] — The news is barely out, and the Reuters reporter can't wait to use it as a justification to continue Ben Bernanke's version of "stimulus." After far more than $3 trillion in real deficits run up by the Obama administration and heaven knows how much "quantitative easing" by the Fed, it should be obvious that it it hasn't worked and, further, that it has arguably caused the employment market to run out of the bit of steam it had in September and October.
[2] — "Outlier"? Since when? As noted earlier, I don't think I've ever seen such a reference. Also, the fact that September and October were revised upward only makes November's result look like a bigger fall from what had been a semi-hopeful situation.
[3] — You know a reporter is scraping for excuses when she cites what the stock how the stock market closed 7-1/2 hours after the report's release. As shown currently at NASDAQ.com's home page, the DJIA and the NASDAQ both opened significantly lower at 9:30, only an hour after the report came out. Other influences took over from there.
[4] — ISM's reports are very, very important indicators, but we should remember that they are surveys of sentiment, not of hard numbers.
[5] — Ah, the obligatory negative Bush era reference.
[6] — Finally, Lucia's lament that about "some economists" questioning the seasonal adjustments doesn't fly. Referring to what has actually happened (i.e., the not seasonally adjusted numbers) clearly demonstrates this: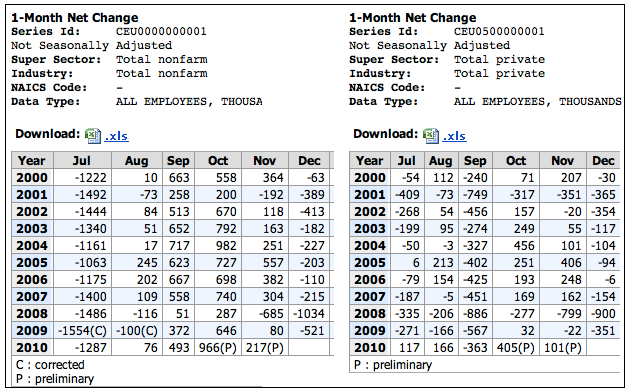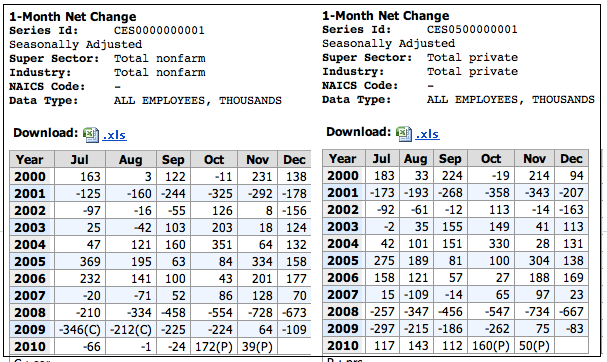 Translation:
For all nonfarm jobs, the last time November's actual number was close to this month's 217,000 was in 2004, when it was 251,000. You'll notice that after seasonal adjustment, 2004′s number was added was 64,000. That's pretty consistent.
For all private-sector jobs, the comparison is even more obvious, because in both 2010 and 2004 the number of jobs actually added was 101,000. This year's +50,000 after seasonal adjustment is a bit better than the 28,000 in 2004, so if anything, Ms. Mutikani's weak attempt at a complaint goes in the wrong direction, and November 2010 got a bit of a break relative to November 2004.
Ms. Mutikani's attempted dress-up of yesterday's pig of an employment report is an epic fail, but quite illustrative of the lengths to which establishment media reporters will go to tell us we're not really seeing what we really are seeing.
Cross-posted at NewsBusters.org.