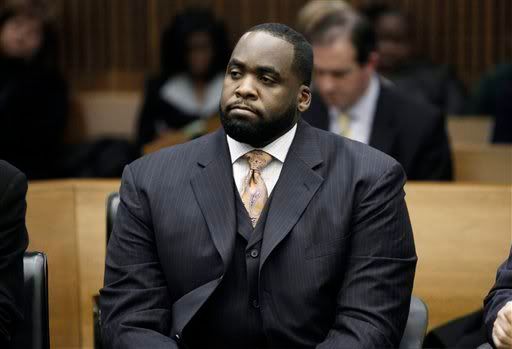 It seems to be almost required by now that any indictment of Kwame Kilpatrick must be accompanied by two or more establishment media outlets reports that fail to inform readers that the former Detroit Mayor is a Democrat — in fact, a Democrat who was singled out for copious praise during the early stages of Barack Obama's campaign for president.
In unbylined reports, CBS News in Detroit and the Associated Press took the "Hide That Party" helm this time around. Here are a few paragraphs from the CBS report:
Indictment Alleges City Corruption, Bribery, Fraud

The U.S. Attorney in Detroit Wednesday unloaded a laundry list of federal charges against former Detroit Mayor Kwame Kilpatrick, his father and three other city officials in an indictment the FBI says has been a long time coming.

"I think that these charges will bring forth and show to the citizens of this area the abuse of power by certain individuals, and certainly shed light on some of the activity that has been going on here for far too long," Detroit FBI Agent in Charge Andrew Arena said.

The 38-count indictment alleges corruption regarding city contracts totaling at least $100 million, involving racketeering conspiracy, extortion, fraud and bribery.

In addition to Kwame Kilpatrick and Bernard Kilpatrick, named in the indictment are Kilpatrick's good friend and city contractor, Bobby Ferguson;Victor Mercado, former head of the Detroit Water and Sewerage Department; and Derrick Miller who is a former chief administrative officer for the city of Detroit.

In announcing the charges, U.S. Attorney Barbara McQuade said the accused turned the mayor's office into a criminal enterprise.
No one in the CBS story is tagged as a Democrat.
Here are a few paragraphs from the AP's story, where the same condition is the case:
US files new charges against ex-Detroit mayor, dad

Imprisoned ex-Detroit Mayor Kwame Kilpatrick was indicted Wednesday on new corruption charges, and his father, Bernard Kilpatrick, also was implicated in what a federal prosecutor called a "pattern of extortion, bribery and fraud" among some of the city's most prominent officials.

U.S. Attorney Barbara McQuade announced the 38-count indictment during a news conference. The indictment also lists longtime Kwame Kilpatrick associate Bobby Ferguson, ex-city water director Victor Mercado, and ex-mayoral aide and Kwame Kilpatrick's close friend Derrick Miller.

"This indictment alleges an audacious and far-reaching abuse of the public trust by a group of high-level city officials and their close associates," McQuade said.

Federal officials refer to the defendants under the racketeering conspiracy count in the 89-page indictment as the "Kilpatrick Enterprise, whose objective was "financially enriching Enterprise members, associates and their families. They did that, the indictment alleges, by using the power and authority of Kwame Kilpatrick's position" as a member of the Michigan House of Representatives and Detroit mayor "to commit extortion, bribery and fraud."

… (Kilpatrick) resigned as mayor in 2008 after pleading guilty to obstruction of justice in state court. He's now in prison for violating probation in that case and is awaiting trial in federal court on tax and fraud charges related to how he spent money from a nonprofit fund.

… Bernard Kilpatrick and Miller helped hold up a $50 million sewer lining contract until the winning bidder agreed to bring Ferguson's business into the deal, the indictment said. It said Ferguson ended up receiving $24.7 million in business.

The indictment lists 13 alleged fraudulent schemes in the awarding of contracts in the city's Department of Water and Sewerage.

"At the heart of the scheme … was corruption in municipal contracting," McQuade said.
As yours truly has pointed out several times in the past (one is here), the Associated Press, which is running the story on its national wire, is violating its own Stylebook guidelines, namely that a reporter should "include party affiliation if readers need it for understanding or are likely to be curious about what it is," in failing to tag Kilpatrick as a Democrat. Though it probably seems obvious to readers of this blog, many readers outside the Midwest will not instinctively know that most urban mayors in the large cities of the Midwest are Democrats. They need to see or that this is the case in Kilpatrick's instance.
At the moment, the AP's response to its own rules appears to be: "Guidelines, schmidelines." I guess they're only meant to come into play when Republicans and/or conservatives, even obscure ones whose offenses go back almost two decades, are involved in illegal or unethical activity.
Cross-posted at NewsBusters.org.