Well, this one will be interesting.
On Wednesday, ADP said 297,000 private-sector jobs were added in December.
On Thursday, the unemployment claims news was not good.
On Monday and Wednesday, the employment components in the Institute for Supply Management's Manufacturing and Non Manufacturing Indices for December, while expanding, came in with lower expansion readings than November.
Oh, and Gallup says things got worse in December.
Everybody can't be right.
This Associated Press news brief has a consensus guess that 145,000 seasonally adjusted jobs were added in December, and that the unemployment rate dropped from 9.8% to 9.7%.
We'll see here at 8:30. Later this morning, I'll look at how the real numbers (i.e. the ones not seasonally adjusted) came in.
HERE IT IS, with really good news on the surface about the rate but mediocre news on jobs added:
The number of unemployed persons decreased by 556,000 to 14.5 million in December, and the unemployment rate dropped to 9.4 percent. Over the year, these measures were down from 15.2 million and 9.9 percent, respectively. (See table A-1.)

… Total nonfarm payroll employment increased by 103,000 in December. Employment rose in leisure and hospitality and in health care but changed little in other major industries. Since December 2009, total payroll employment has increased by 1.1 million, or an average of 94,000 per month. (See table B-1.)

… The change in total nonfarm payroll employment for October was revised from +172,000 to +210,000, and the change for November was revised from +39,000 to +71,000.
To be fair, December's report shows 173,000 more people working than in November (December's +103k plus 70k in changes to October and November). But whatever uptick ADP saw in December, BLS clearly didn't.
The A table summary (all seasonally adjusted) shows that about 47% of the unemployment rate drop occurred because 260,000 people gave up looking for work and withdrew from the workforce, and that about 53% was due to more people working (+297,000). The workforce participation rate dropped by another 0.2% to 64.3%.
The B table summary shows 113,000 private-sectors jobs added (about 38% of what ADP had), with over 2/3 of the additions coming in education and health care.
More later.
______________________________________________
UPDATE: The not seasonally adjusted numbers are not impressive –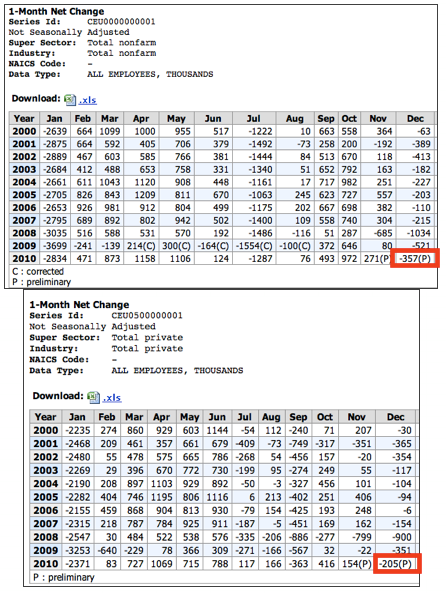 Both for all jobs and private-sectore jobs, December 2010 trailed every December from 2003-2007. This shouldn't be happening during a supposed recovery after a deep recession. Instead, there should be more of a slingshot effect taking place. So unless ADP is really right and has picked up a trend before the government did, which we'll not learn until next month, we're still just muddling along unimpressively.
UPDATE 2: Heritage nails it –
Morning Bell: Americans Are Fleeing Obama's Crony Capitalist Economy

You are going to hear a lot of noise from the White House about how this drop from a 9.8% unemployment rate to 9.4% means the economy is in a strong recovery. This is false. The reality is that the only reason the unemployment rate dropped is because the U.S. labor force decreased by 434,000. More importantly 260,000 Americans dropped out of the labor force entirely. This means that the Obama economy is now driving Americans out of the labor force faster than it is bringing them.

There is a phrase for an economy that is so dependent on close relationships between business people and government officials: crony capitalism. And it is strangling our economic recovery.

… There is a better way. Instead of relying on bailouts, subsidies, tax loopholes, and regulations to pick and choose which politically connected firms succeed or fail, government should unleash entrepreneurs to create jobs through true free enterprise policies. Specifically, Congress should:

Rescind unspent stimulus funds;
Reform regulations—specifically repealing Section 404 of the Sarbanes–Oxley Act—to reduce unnecessary business costs;
Remove barriers to domestic energy production;
Suspend the job-killing Davis–Bacon Act and prohibit Project Labor Agreement requirements on federally funded construction projects;
Conclude the pending free trade agreements with Colombia and Panama, as well as the recently announced agreement with South Korea; and
Reduce taxes on foreign earnings to encourage companies to repatriate the profits to America.

According to James Sherk, Karen Campbell, and John Ligon of the Center for Data Analysis, adopting these measures increase real gross domestic product by an average of $56 billion a year between 2011 and 2020, reduce the national debt by $305 billion by 2020, and increase job growth by 305,000 a year between 2011 and 2020.
If the President were truly interested in the type of robust economic growth that would bring about the kinds of increases in employment we need, he would be doing these things. He's not. It would therefore appears that his professed interest is feigned. What tangible, policy-based evidence is there for an opposite conclusion?