Indiana Congressman Mike Pence won't run for President (HT Hot Air) in 2012. That's understandable.
Better news would be that he's running to send RINO Senator Dick Lugar into retirement. Apparently, no. If he pursues higher office, it will be to become Mitch Daniels' successor as Hoosier State Governor.
_____________________________________________
Obama Hearts Reagan, according to Time, as covered by Mark Finkelstein at NewsBusters (HT Doug Powers at Michelle Malkin's place).
I especially like the way Reagan used to bash the rich and oil companies for the supposedly undeserved "breaks" they receive, like Obama did in his State of the Union speech. (/sarc)
Anyway, heart this, in the words of the Congressional Budget Office:
The recovery in employment has been slowed not only by the moderate growth in output in the past year and a half but also by structural changes in the labor market, such as a mismatch between the requirements of available jobs and the skills of job seekers, that have hindered the reemployment of workers who have lost their job. Payroll employment, which declined by 7.3 million during the recent recession, gained a mere 70,000 jobs (or 0.06 percent), on net, between June 2009 and December 2010. (By contrast, in the first 18 months of past recoveries, employment rose by an average of 4.4 percent.)
One of those past recoveries is Reagan's. Compare this: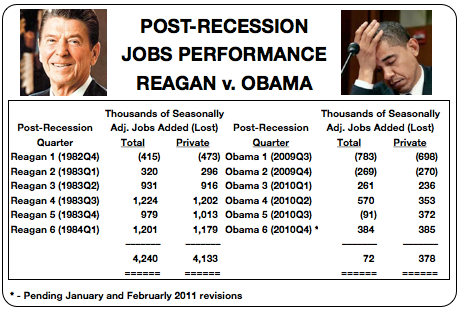 This establishment press is positioning Team Obama's decision to invoke Reagan as a supposedly clever move. It's better interpreted as a sign of desperation.
I also find the move especially annoying because of this (direct YouTube):
_____________________________________________
At the UK Telegraph: "Himalayan glaciers not melting because of climate change, report finds."
Actually, it's a half-and-half situation:
Researchers have discovered that contrary to popular belief half of the ice flows in the Karakoram range of the mountains are actually growing rather than shrinking.

The discovery adds a new twist to the row over whether global warming is causing the world's highest mountain range to lose its ice cover.

It further challenges claims made in a 2007 report by the UN's Intergovernmental Panel on Climate Change that the glaciers would be gone by 2035.

Although the head of the panel Dr Rajendra Pachauri later admitted the claim was an error gleaned from unchecked research, he maintained that global warming was melting the glaciers at "a rapid rate", threatening floods throughout north India.

The new study by scientists at the Universities of California and Potsdam has found that half of the glaciers in the Karakoram range, in the northwestern Himlaya, are in fact advancing and that global warming is not the deciding factor in whether a glacier survives or melts.
Yet Obama, the EPA, and rest of his administration march along as if globaloney still has a shred of credibility. It doesn't.
__________________________________________________
The Associated Press seemingly can't help itself, as illustrated in this housing-releated headline — "New-home sales in 2010 fall to lowest in 47 years."
The headline would make you think that 1963 was worse than 2010. No, it wasn't. Marty Crutsinger's clunky first sentence clarifies:
Buyers purchased the fewest number of new homes last year on records going back 47 years.
Crutsinger also lowers the recovery bar when he writes that "… economists say it could be years before sales rise to a healthy rate of 600,000 units a year."
600,000 would hardly be healthy. Every year from 1983-2007 except 1990 came in at over 600,000. The nation's population is about 30% higher now than it was a quarter-century ago. The "health" benchmark is at least 800,000.
As illustrated a few weeks ago, 2010 was the not only the worst year for new home sales on record, it was the worst since World War II. Rebound? What rebound?