It would appear that if it weren't for the center-right blogosphere, Fox News, a few business dailies, a few conservative pundits, and talk radio, very few people would know about the hundreds of waivers granted by the Obama administration to companies, unions, not-for-profits, states, and other entities wishing to be spared the burdens of complying with Obamacare for at least another year.
The latest count as of last Wednesday's Health and Human Services Department press release was 732, including four states: Massachusetts, Ohio, New Jersey, and Tennessee.
That the waiver situation is not more widely known is largely due to the fact that the establishment press has shown almost no interest in it.
The Associated Press has had five days to cover HHS's latest release. It is news, as HHS's release was, as far as I can tell, the first indication that "Over 500 waivers were granted in December." Here is the result of a search on "health waivers" (not in quotes) at the AP's main web site at about 10:00 this morning: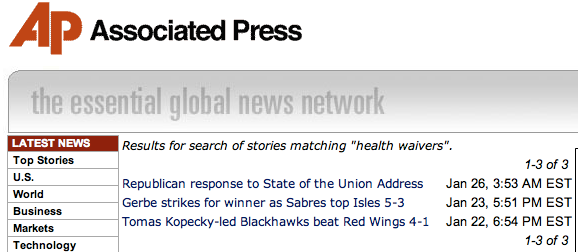 In other words, there's nothing relevant.
Related searches on "exemptions," "waiver," and "waivers" return nothing relevant to HHS's release.
At the New York Times, a search on "health care waivers"  turns up one relevant item from Friday dealing with how the states are addressing ballooning Medicaid costs, including in certain instances asking for exemptions from certain ObamaCare provisions. But the last time the Times addressed waivers for non-governmental entities was back in early December, and the focus then ("Opponents Take Aim at Limited Health Plans" — note the gun allusion) was on how limited coverage plans like one offered by McDonald's, which received an Obamacare waiver, are, in West Virginia Senator Jay Rockefeller's opinion, "worse than nothing because of the false expectations and the false hope." The Times's Reed Abelson opened his story by writing: "Maybe something isn't always better than nothing." Less specific Times searches surfaced no additional recent pertinent items.
From what I can tell, the Times has not noted the roster of Obamacare-backing unions which have obtained waivers. JIm Angle at Fox News has noted the situation:
Hundreds of entities from banks to church groups to school districts are saying they can't live up to the law.

The group also includes dozens of unions chapters, most of which supported passage of the bill — from electrical workers to Teamsters to the Service Employees Union, which organizes low wage workers.

Even a union representing NY Firefighters asked for a waiver, as well as several states whose own health care requirements were lower than the new federal law.
Michelle Malkin recited a roster in her latest syndicated column:
Most noteworthy: One-fourth of all the waivers (182) so far have gone to Big Labor groups across the country.

The Teamsters Union, which hailed Obama last March for "enacting historic health care reform, providing health insurance to millions of Americans who don't have it and controlling costs for millions more who do," obtained waivers for 17 different locals.

The United Food and Commercial Workers International Union (UFCW), which celebrated the passage of Obamacare as "an achievement that will rank among the highest in our national experience," secured waivers for 28 different affiliates.

The International Brotherhood of Electrical Workers — which exulted after the health care law's passage that "finally, affordable and comprehensive health care coverage will be available for millions of working Americans" — saw 8 of its affiliates win shelter from the Obamacare wrecking ball.

The Communications Workers of America, which sent its workers to lobby for Obamacare on Capitol Hill as part of the left-wing billionaire George Soros-funded Health Care for America Now front group, snagged a waiver that will spare a hefty 19,000 of its members from the onerous federal mandate.

And the Service Employees International Union, which poured $60 million into Democrat/Obama coffers in 2008 and millions more into the Astroturf campaign for the federal health care takeover, added four new affiliates to the waiver list …
A Friday Investors Business Daily editorial ("Where's Our Waiver?") makes lots of good points, including this one:
ObamaCare is in effect repealing itself, waiver by waiver. If it's so great, the Senate should vote on its repeal without fear.
It should not be forgotten that the administration didn't have to grant a single waiver if it didn't feel like it. My recall of the law is that there isn't even a requirement that HHS be consistent in its waiver-granting criteria. If repeal doesn't occur soon and statist health care proponents seen an opening in the political climate, the waivers may stop a year or two before the January 1, 2014 full implementation date — either selectively or en masse.
Cross-posted at NewsBusters.org.