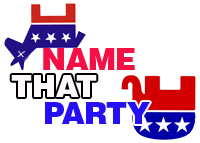 Back in August and September, Lachlan Markay at NewsBusters did roundups of media infamy in connection with the exposure and subsequent arrests of eight officials and politicians associated with Bell, California. The cases involve abusively excessive salaries and benefits paid and allegedly kept secret from the city's residents.
During the August episode of media malfeasance when the story was first breaking, Markay found that "of the 351 stories (found vis Lexis Nexis) on the then-brewing controversy, 350 had omitted party affiliations, and one had mentioned they were Democrats only in apologizing for not doing so sooner." In September, when eight arrests were made, he further noted that "ABC, CBS, the Los Angeles Times, the Associated Press, Bloomberg, USA Today, CNN, MSNBC, NPR, and the San Francisco Chronicle all reported on the arrests today without mentioning party affiliations."
Naturally you would expect, in reporting some of the seamier details found in court documents filed on Monday, that the Associated Press's John Rogers would again fail to tag Bell officials as Dems, and of course he didn't. Too bad — he could have noted how these donkeys described themselves as pigs (bolds, which should not be missed, are mine):
E-mail: City officials joked of acting like pigs

The two top officials in the scandal-ridden California city of Bell illegally paid themselves hugely inflated salaries and created a paper trail to hide their actions while joking that they were acting like pigs, according to a document filed in court Monday by the district attorney's office.

E-mails and other documents from former Assistant City Manager Angela Spaccia's computer will show that beginning in 2005 she and former City Manager Robert Rizzo created phony contracts never approved by the City Council that raised their salaries to "outrageous" levels and made it difficult to determine exactly how much they were being paid, according to the 19-page memorandum from District Attorney Steve Cooley.

What's more, prosecutors said, when the city began receiving state public records requests for the officials' salaries last year, Rizzo had Mayor Oscar Hernandez sign backdated contracts approving the payments, although Hernandez was not the mayor when the contracts were written.

The memorandum was submitted for a preliminary hearing scheduled later this week to determine if there is sufficient evidence for Rizzo, Spaccia, Hernandez and former Councilman Luis Artiga to stand trial on charges of looting the blue-collar suburb of $5.5 million.

… The document filed Monday called Rizzo a "godfather of sorts" who was able to bilk the city that employed him for years because he used nearly $2 million of public money to make loans to dozens of people, including Hernandez and Artiga, when they were going through hard economic times. In exchange, prosecutors say, the elected officials and numerous other people did his bidding.

… The two (Spaccia and Bell's former police chief Randy Adams) also joke by e-mail of enriching themselves at the expense of Bell, a modest, working-class suburb of Los Angeles where one in six people live in poverty.

"I am looking forward to seeing you and taking all of Bell's money," Adams writes at one point, according to the memo.

"LOL . well you can take your share of the pie . just like us," Spaccia allegedly replies. She goes on to say that one of Rizzo's favorite sayings is that pigs get fat but hogs get slaughtered.
These donkeys who joked about being pigs didn't seem to comprehend that they were already living like hogs at the expense of Bell's taxpayers for years. I hope it's not considered uncivil (actually, I don't care) to suggest that a quite a few years in the hogs' hell known as prison would be useful lesson for these parasites — and other donkeys inclined to imitate them.
As to the AP, for the umpteenth time, here is the Stylebook standard of "The Essential Global News Network":
Party Affiliation – Let relevance be the guide in determining whether to include a political figure's party affiliation in a story. Party affiliation is pointless in some stories, such as an account of a governor accepting a button from a poster child.

It will occur naturally in many political stories. For stories between these extremes, include party affiliation if readers need it for understanding or are likely to be curious about what it is.
No one can credibly argue that party affiliation is irrelevant in this story, that readers don't need to know it, or that they aren't likely to be curious. It is credible to argue that John Rogers and the wire service would prefer that readers not know that eight of the most crooked pols in recent memory are members of the so-called party of compassion.
Cross-posted at NewsBusters.org.