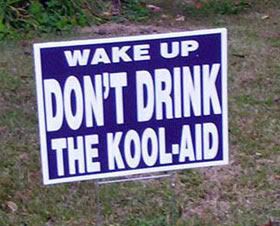 Twice on Monday (here and here), I took serious issue with the opening sentences of two Associated Press stories on Uncle Sam's fiscal situation.
First, there was Martin Crutsinger's Sunday stinker, which described the level of spending in President Obama's yet to be released 2012 budget as "$3 trillion-plus," timed so that early morning news readers, radio listeners, and TV viewers would hear it. Too bad that the real number, which the AP reporter acknowledged later on Monday, is really $3.73 trillion. If you think that's bad, the administration projects that total spending this year during fiscal 2011 will be $3.82 trillion.
Then there was Monday's muff by the AP's Andrew Taylor, who absurdly claimed that the federal government has only had "two years of big spending increases." It's actually three out of four if you use Obama-Geithner accounting, and four out of four if you flush their accounting tricks out of the numbers.
The inability to get through an opening sentence without insulting reasonably informed readers' intelligence seems to have spread to USA Today. Look at how the paper's Paul Davidson opened his story about what probably ought to be called "Son of Stimulus" in the hopefully unlikely event it ever becomes a reality:
Obama budget plan could create millions of jobs

President Obama's proposed fiscal 2012 budget is potentially a massive job-creation engine, with plans to generate millions of them by repairing and expanding highways, bridges and railways.
Those who need to take a few moments to do what this graphic shows can be forgiven. In fact, I need to take a timeout myself …
… Okay. I would say that Davidson's report went downhill from there, but I would be wrong. Having hit rock bottom with his opener, he basically stayed there the rest of the way. Here are a few more paragraphs, including a really pathetic misinterpretation of an already laughable claim made by a couple of deluded economists last year:
But the spending plan also heralds an outsize political battle as it reignites the type of Republican skepticism over the effectiveness of such outlays that characterized the 2009 economic stimulus.
More critically, it's fuzzy on how the $556 billion in projects over six years will be funded. Experts say that makes it unlikely to pass a deficit-obsessed Congress.

… The plan calls for $53 billion to build a high-speed rail system, $336 billion for highways and a "national infrastructure bank" that would combine public and private money to build national or regional transportation systems.

Associated General Contractors (AGC), a trade group for the construction industry, estimates the plan could create about 5.4 million construction jobs and 10 million more jobs in related industries and the broader economy.

… The blueprint is certain to set off political battles. Mark Zandi, chief economist of Moody's Analytics, says infrastructure improvements not only create construction jobs but improve transportation systems to increase U.S. economic competitiveness. A study co-authored by Zandi concluded the economic stimulus, which included $135 billion in infrastructure spending, generated 8 million additional jobs in 2009 and 2010.

Yet Republicans ripped the stimulus for not cutting unemployment.
Someone needs to tell Davidson that the reason "Republicans ripped the stimulus for not cutting unemployment" is, well, because the stimulus didn't cut unemployment. The USAT reporter also badly misinterpreted Zandi's and co-author Alan Blinder's July 2010 claim, which, according to the New York Times, was that "there would be about 8.5 million fewer jobs" if President Obama's stimulus plan hadn't been enacted. In other words, Zandi is claiming on balance that 8.5 million jobs were saved. That's a crock too, but Davidson took it a level further, asserting that 8 million jobs were "generated," which I interpret in context to mean the same as "created."
Recently, Cincinnati TV station WLWT went looking for stimulus jobs created in the local area, and literally couldn't find any (bolds are mine):
News 5 Investigates Whether ARRA Money Created Jobs

The American Recovery and Reinvestment Act brought $65 million in road projects to Hamilton, Butler, Warren and Clermont counties. The main goal of ARRA was "putting America to work." But did it work?

… News 5 conducted a month-long investigation into the stimulus money that poured into the Tri-State. Of the projects that received $65 million in funding, most have been completed. So where did the money go?

… Because the ARRA money had to go to road projects that were considered "shovel ready," paving jobs won the majority of the money. Two paving companies in particular came out on top, receiving nearly 70 percent of the federal money that came to the Tri-State — John R. Jurgensen Company received nearly $23 million while Barrett Paving got more than $21 million.

While Ohio Department of Transportation numbers show that 627 jobs were impacted by the money, News 5 learned that neither company hired a single employee with the nearly $44 million they received.

News 5 repeatedly requested interviews of executives at Jurgensen and Barrett, but they declined. In a statement, the Human Resources Director for Jurgensen said, "The money didn't create new jobs, but it kept people from losing them."

When pressed about how many jobs were kept, he responded, "Had we not had the ARRA projects, some paving crews might not have been recalled."

News 5 found a similar story at Barrett Paving.
So the best that can conceivably said about what WLWT found is that some jobs were saved.
If Paul Davidson comes to Cincinnati in search of any of those 8 million jobs "generated," he's going to leave sadly disappointed. Step away from the Kool-Aid, Paul. If the original stimulus didn't accomplish anything — and it didn't — why should anyone think that "Son of Stimulus" would do any better?
Cross-posted at NewsBusters.org.