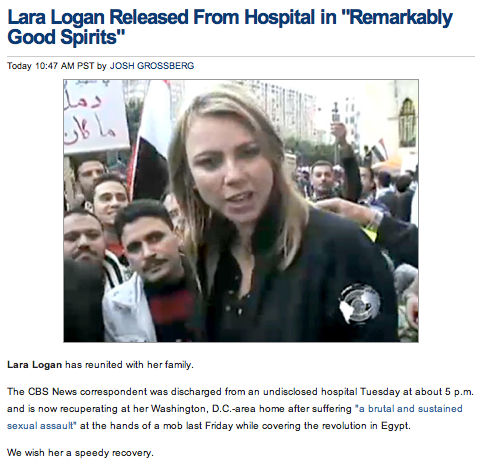 Previous BizzyBlog posts on Logan are here. Those who have followed this blog for a long time are likely aware that I have not been Ms. Logan's biggest fan. That changed about 18 months ago.
I suspect that the wrath and violence directed at Ms. Logan is not random, but rather about the fact that in Fall 2009, she finally seemed to get it about what is really happening and what really is at stake in the Middle East. I'm quite certain that the Taliban- and Muslim Brotherhood-sympathetic, Israel-despising wing of Islam is not pleased with her.
_____________________________________________
UPDATE: A journalism prof (he was a journalism prof? That explains a lot) gets richly deserved just desserts ("Leftist Journalism Prof Nir Rosen Resigns After Insulting Sexual Assault Victim, CBS's Lara Logan").
What is it about leftist guys and the women with whom they politicially disagree?