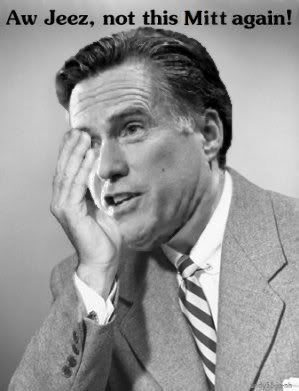 It's why Mitt Romney didn't beat Ted Kennedy in the U.S. Senate race in 1994.
In 2012, if nothing else does, it will keep him away from the White House.
"It" is Mitt Romney's real track record as a "businessman."
Read on, via Josh Kosman at the New York Post:
Romney's past is more a working class zero

… Romney's private equity firm, Bain Capital, bought companies and often increased short-term earnings so those businesses could then borrow enormous amounts of money. That borrowed money was used to pay Bain dividends. Then those businesses needed to maintain that high level of earnings to pay their debts.
A lot of them couldn't "maintain that high level of earnings." When they didn't, they were cast aside — not because they weren't viable businesses, but because they couldn't withstand how Bain bled them dry:
… Bain and Goldman Sachs, for example, put $85 million down in a $415 million 1994 leveraged buyout of Baxter International's medical testing division (renamed Dade Behring), which sold machines and reagents to labs.

… In August 2002, Dade filed for bankruptcy.

This was not an isolated case.

Bain in 1988 put $5 million down to buy Stage Stores, and in the mid-'90s took it public, collecting $100 million from stock offerings. Stage filed for bankruptcy in 2000.
Bain in 1992 bought American Pad & Paper (AMPAD), investing $5 million, and collected $100 million from dividends. The business filed for bankruptcy in 2000.
Bain in 1993 invested $60 million when buying GS Industries, and received $65 million from dividends. GS filed for bankruptcy in 2001.
Bain in 1997 invested $46 million when buying Details, and made $93 million from stock offerings. The company filed for bankruptcy in 2003.

Romney's Bain invested 22 percent of the money it raised from 1987-95 in these five businesses, making a $578 million profit.
What Bain practiced in these instances wasn't capitalism. In these cases, Bain acted as a late 20th century pack of robber barons. Mitt Romney was a lead robber.
Add this to the reasons Mitt Romney can't win, shouldn't win, and does not deserve to win.
If Mitt Romney prevails in the 2012 primaries, the establishment press will love him to death … until mid-September 2012.
If GOP primary voters are crazy enough to ignore all of the reasons why Mitt Romney is unfit and hand him the nomination, the press will nail Romney with the business deals described above. Then it will be curtains.
Just like with Ted Kennedy in 1994.
Write it down.