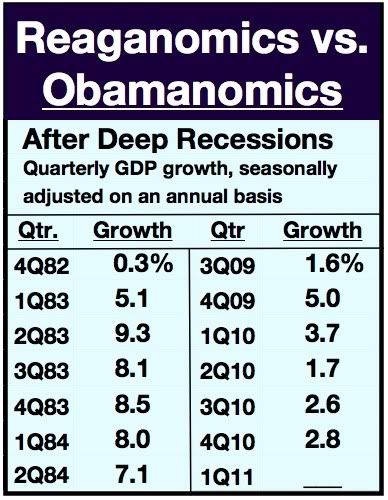 The graphic seen at the right is also in the far right column of the blog, and is a constant reminder of how pathetic the "Rebound? What Rebound?" alleged recovery on President Barack Obama's watch has been.
The score through six quarters (Reagan, 4Q82 through 1Q84; Obama, 3Q09 through 4Q10) is:
Reagan — 39.3, representing 9.91% in actual growth, or a 6.5% compound annual rate.
Obama — 17.4, representing 4.37% in actual growth, or a 2.9% compound annual rate.
As noted in previous posts, the six-quarter scoreboard is misleading, in that the early 1980s recession, according to the National Bureau of Economic Research, dubious as its pronouncements are, ended in November 1982. Reagan's 4Q82 growth rate of 0.3% is handicapped by two months of NBER-defined recession.
Though imperfect, a more meaningful comparison would involve looking at the most recent four quarters. That scoreboard wipeout is even more obvious:
Reagan — 33.9, representing 8.47% in annual growth.
Obama — 10.8, representing 2.70% in annual growth.
Most important to the average person, Reagan's stellar growth generated jobs. Obama's mediocre growth hasn't. Here's the scoreboard for seasonally adjusted jobs after 19 months: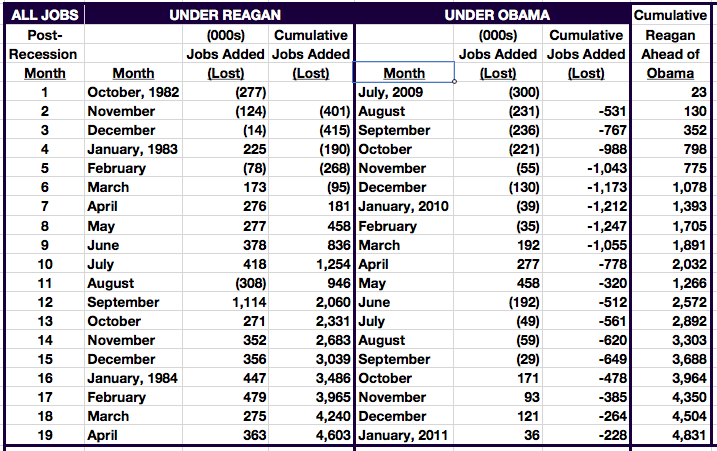 The economy under Reagan generated 4.6 million jobs during the 19 months noted. If you look only at Reagan's 17 post-recession months as defined by NBER (i.e., excluding October and November of 1982), it's really a bit over 5 million.
Pending future single-month and comprehensive revisions, the majority of which have been in the downward direction during the past two years, the Obama economy since the recession ended in June 2009 is STILL in the hole by 228,000 jobs.
It gets worse for those in the public sector who still believe that the president is their savior. Here are the components of that net job loss:
Private sector — 94,000 jobs added
Federal government — 36,000 jobs added
State government — 31,000 jobs lost
Local government — 327,000 jobs lost (1.56% of the sector's workforce)
For public sector employees who don't work for Uncle Sam — With "friends" like Obama, who needs enemies?