The call at the Washington Times is a bit premature, but the subheadline is dead-on:
U.S. sets $223B deficit record; Dwarfs Hill's cutting goals.
The current record for worst monthly deficit is $220.909 billion in February 2010.
Here's the Congressional Budget Office's estimate, which is NOT the final word: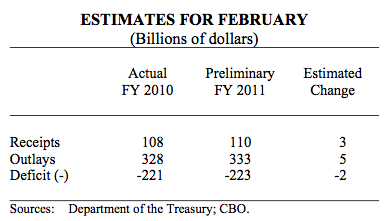 The February deficit amount won't be official until the Monthly Treasury Statement comes out on Thursday afternoon, and the numbers could change by enough for the Times to be wrong.
Nonetheless, 20 months after the end of a recession, these observations are germane:
The lack of significant growth in receipts is disappointing (8% year-to-date; some of that may be due to receipts from Ben Bernanke's quantitative easing efforts, thus not reflecting a pickup in economic activity).
Spending remains ridiculously high. If CBO's $333 billion estimate for the past month is correct, it will be an all-time single-month record. If it's not, it's still ridiculously high.
But Goldman Sachs, Ben Bernanke and the Associated Press all agree that you don't dare cut spending at the federal, state, or local level, because if you do, economic growth will stall.