My submitted column title and headline and subhead were briefer than what you'll see at the link:
Unemployed Need Not Apply
Thanks to Obamanomics
I suspect, based on discussions I've had with others on the topic, that it will generate more than a little discussion and perhaps a bit of good old-fashioned rancor.
It will go up here at BizzyBlog on Thursday (link won't work until then) after the blackout expires.
______________________________________________
Key graphic: I decided not to link to the following in the column, so I'll show it here –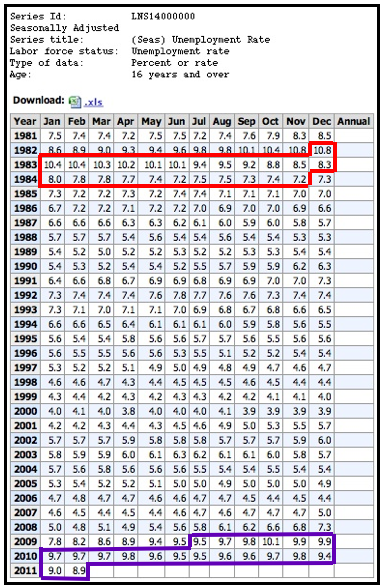 The two paragraphs from the column supported by the graphic are as follows (bolds are mine, and didn't appear as such in the column):
In the 1980s, in the wake of a recession and economic conditions that were in many ways more severe than the 2008-2009 "Great Recession," President Ronald Reagan chose the path of tax cuts and regulatory restraint. As a result, seasonally adjusted unemployment, which peaked at 10.8% in November 1982, the last month of that recession, fell almost continually during the following two years to 7.2%, and kept falling. Meanwhile, economic growth exploded. Employers hired the unemployed because there was no other way to meet the burgeoning demand for their companies' goods and services.

By contrast, during the first 20 months after June 2009, the end of the most recent recession, unemployment rose from 9.5% to 10.1% several months later, and stayed virtually stuck at that level for a full year. In recent months, the unemployment rate has finally come down to 8.9%. But that's largely because there are hordes of potential workers who are so discouraged that they've stopped even looking; thus, they aren't included in the official unemployment statistics. As for economic growth, it's been anemic compared to other post-recessionary periods, and through six quarters is less than half of that seen under Reagan.
The employer instinct favoring the currently employed over the unemployed, particularly the long-term unemployed, has always been present. It's when an economy is in a long-term funk that it becomes especially problematic. We're in such an economy — thanks to Obamanomics.
Go to PJM for the whole column.