No one can fairly accuse whoever wrote the Tuesday evening report on 2010 newspaper industry revenue of looking through rose-colored glasses. The same cannot be said of John F. Sturm, President and CEO of the Newspaper Association of America, whose press release today reads as follows:
Quarter after quarter, newspaper advertising has shown signs of a continued turnaround and an essential repositioning. Buoyed by online growth and moderating print declines, these figures point to a continually improving advertising environment for newspapers, with encouraging trends as we progress further into 2011. Online revenues increased 14 percent in last year's fourth quarter, with 12 percent of all newspaper ad revenues generated from digital platforms.

Newspapers – in print and digital form – remain the largest source of original, high-quality news and information in the United States, reaching nearly two-thirds of all adult Internet users and attracting more than 164 million people who read a newspaper in print or online each and every week.
Despite one half-decent quarter, Sturm's characterization of the "environment" as improving is deliberate, he surely can't say that total revenues are improving: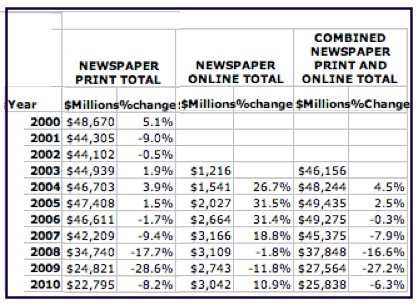 The AP's coverage made some good points about the overall picture, but missed two important things, which I'll note after the excerpt:
Newspaper advertising in the U.S. has sunk to a 25-year low as marketing budgets followed readers to the Internet, where advertising is far cheaper than what publishers have been able to command in print.

Advertisers spent $25.8 billion on newspapers' print and digital editions last year, according to figures released Tuesday by the Newspaper Association of America. That's the lowest amount since 1985 when total newspaper advertising stood at $25.2 billion.

After adjusting for inflation, newspaper advertising now stands at about the same level as nearly 50 years ago. In 1962, newspaper advertising totaled $3.7 billion, which translates to about $26 billion today.

Print advertising has fallen in each of the past five years, dramatically shrinking newspaper publishers' main source of income. Even as the economy has gradually improved since 2009, newspapers are still bringing in less revenue as advertisers embrace free or cheaper Internet alternatives that aim to deliver the messages to people most likely to be interested in the products being pitched.

… Many publishers are pinning their comeback hopes on delivering more news to the growing audience on mobile phones and tablet computers such as Apple Inc.'s iPad.

Tablets, in particular, could create new moneymaking opportunities because early research indicates that their users tend to spend more time reading stories and watching video on those devices than they do on laptops and desktop computers. That trend could help newspapers charge higher rates for ads on their tablet editions than they do on their websites and perhaps make it easier to sell subscriptions to digital editions. With the exception of The Wall Street Journal and a few other newspapers, most publishers have given away their content on the Web – a factor that contributed to their financial woes in recent years.

… Newspaper advertising totaled $7.3 billion in the last three months of 2010, down 5 percent from the prior year. The quarterly decreases have been getting progressively smaller since the July-September period of 2009, when newspaper ad revenue plunged 29 percent from the previous year.
This is all pretty bad stuff, but given that revenue growth is probably going to have to come from online sources, here are a couple of items that should be considered even more troubling:
As seen in the graphic above, online revenue is still 4% below where it was in 2007, before considering inflation.
In the context of the growth of online revenue as a whole, the 2010 increase of 10.9% is less than the 13.9% growth in all online ad revenue, while the 4% decline in the past three years is clearly below overall online ad growth during the same period.
If bias and lack of trust isn't part of the reason for the poor performance in online revenue growth compared to overall online revenues (while certain "nontraditional" news sites have achieved stellar revenue growth), what is?
Cross-posted at NewsBusters.org.