February's new-home sales number is the worst ever on records going back to 1963, is certainly the worst since the aftermath of World War II, and is 30% below February 2010: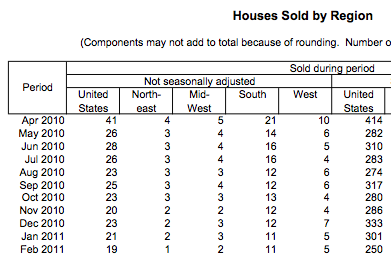 One word you almost most definitely won't see in today's coverage of this news: "Obama." That won't change the fact that his administration's policies have not only kept the housing industry in the doldrums, but have plunged it to depths heretofore unimaginable.
___________________________________________
UPDATE: "Unexpectedly" —
Sales fell 16.9 percent from January, delivering a shock to analysts who had expected a gain for last month.
Plus: An "unexpectedly" encore.