Continued decent news from ADP:
Private-sector employment increased by 201,000 from February to March on a seasonally adjusted basis, according to the latest ADP National Employment Report® released today. The estimated change of employment from January 2011 to February 2011 was revised down to 208,000 from the previously reported increase of 217,000. This month's ADP National Employment Report removes any remaining doubt that private nonfarm payroll employment accelerated heading into 2011. The increase of 201,000 is in line with the consensus expectation both for today's report and for Friday's jobs report from the Bureau of Labor Statistics.
That's nice, and it beats the heck out of what we were seeing throughout 2009 and 2010.
But how was the economy under Ronald Reagan doing at a similar point?
Much better: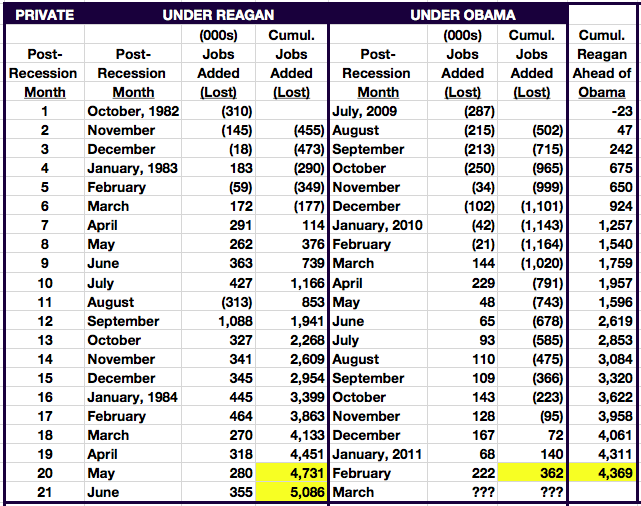 In June 1984, the 21st month after the 1980s recession ended, the economy under Ronald Reagan added 355,000 private-sector jobs. Population-adjusted with some tempering for aging demographics, that would be the same as adding about 420,000 jobs today. Additionally, the Reaganomics number brought that era's 21-month total of private-sector jobs added to 5,086,000; population- and demographics-adjusted, that would be the same as adding about 6.5 million jobs today.
In the 20 post-recession months from July 2009 to February 2011 under Obamanomics, the economy has added 362,000 private-sector jobs — and that's if future comprehensive revisions don't knock the number down by a few hundred thousand or so, as has been the case during each of the past two years (for all jobs, 378,000 in February 2011; 902,000 a year earlier).
Thus, while it will be somewhat welcome news if the Bureau of Labor Statistics tells us on Friday that the economy added about 200,000 jobs in the private sector, in historical context it will not in any way, shape, or form represent an impressive result — not even if it's 300,000.