The "must have charts" crowd will love this — well, the fact that it's a chart, not what's in it: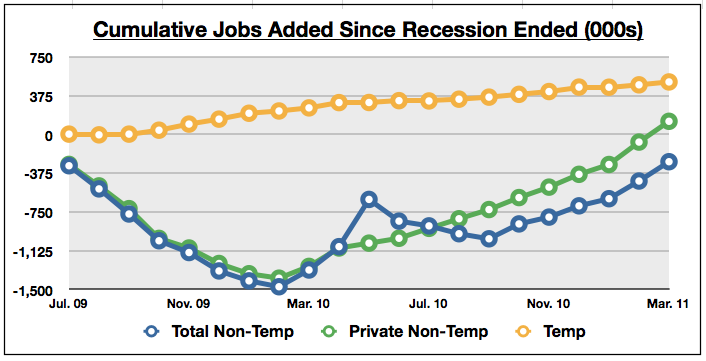 For the first eight months the recession ended in June 2009, employers continually and consistently added to their rosters of employees obtained through temporary help services, even as they on the whole continued to let their own workers go. In the past 21 months, 508,000 temps have been added to the workforce; the rest of the private sector has gained 128,000 jobs (that number was negative until March); total non-temp employment in the economy is STILL down by 263,000.
This is how employers have responded to the POR (Pelosi-Obama-Reid) Economy's pervasive uncertainty.
Thus, even now, no meaningful dent in terms of permanent, full-time employment has been made in:
- the 6.75 million jobs that were lost during the POR Economy's recession as normal people define it.
- the 6.93 million jobs that were lost starting when the POR Economy began (roughly June 1, 2008) to the end of its recession.
- the 7.41 million jobs that were lost during the December 2007 – June 2009 recession as the National Bureau of Economic Research (erroneously) defined it.
But it's not Obama's fault (/sarc).