$4 a gallon gas (okay $3.999) — Taken shortly after 3:00 p.m. at I-71 and Ohio SR 741: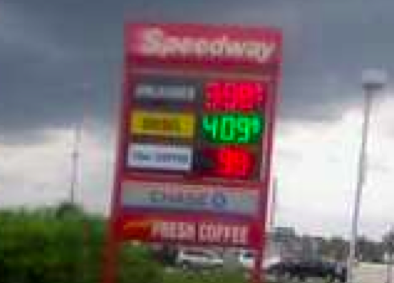 Our President is getting his wish, if he considers a two-year climb from $1.79 to $4 "gradual," and/or if he similarly views an increase of over $1 in less than 6 months:
One may question how much responsibility Obama's administration has for current prices — I maintain that it's more than minor — but no one can question whether he believes that $4 and higher gas is inherently desirable. He does, and it's not arguable.
__________________________________________________
UPDATE: CincyGasPrices.com shows about a dozen other stations besides the one pictured above at $3.99, with a current local average of $3.86.
UPDATE 2: Well, I could either say "BizzyBlog gets results" or acknowledge Murphy's Law. The price at the station in question changed about an hour later to $3.859. Sadly, I think it's Murphy's Law. :–>
UPDATE 3: At Gateway Pundit — "As Gas Prices Reach $4 Per Gallon – The Obama EPA Forces Shell to Abandon Arctic Drilling" (HT to commenter "Gregory" below). From here, it looks like they did it for no valid reason — except that they can.