First, some mood music, from the glory days of lip-synching:
I know the song is called "Breaking Up Is Hard To Do," but I've always thought of it as the "Down Doobie Doo Down Down" song.
"Down Doobie Doo Down Down," as seen in this chart created from data at the Census Bureau, is what the U.S. new-home market is: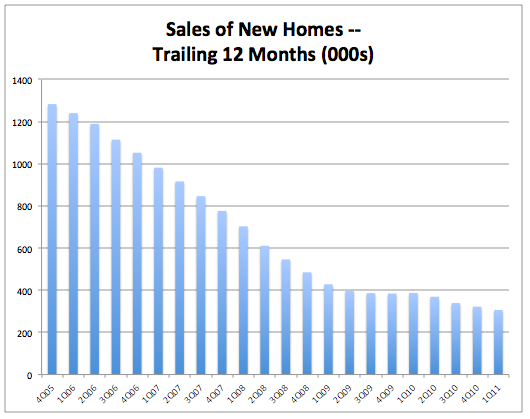 Setting aside the slide that got us there, 1Q11′s trailing 12 months sales of 306,000 is not only by far the lowest in the 48 years since records have been kept, but also, as demonstrated here, certainly the lowest since World War II. The first quarter of 2011 came in at a ridiculously 71,000.
One can argue of course that the years of the mid-2000s were way overheated, but the current level of sales is totally unacceptable, and still getting worse. Barring a surprise, April's 12 trailing months will come in below 300,000; April 2010′s 41,000 unit sales uptick caused by the expiration of the homebuyer's credit will almost certainly not be replicated.
Housing won't come back until the Obama administration lets the market clear out its debris. From all appearance, they're not going to let it happen any time soon. Until they do, the ongoing nature of this disaster is on them, and them alone.