Good news (mostly) — The Institute for Supply Management's April Manufacturing Index came in at 60.4%, down from 61.2% in March, but still strongly expansionary (anything above 50% means expansion). Overhanging cloud, as noted by Zero Hedge: The Prices Paid component is the highest it has been in almost three years, a potential harbinger of accelerating inflation.
Bad news – another record-breaking gas price day in Cincinnati (graphics are as of 10:15 p.m.):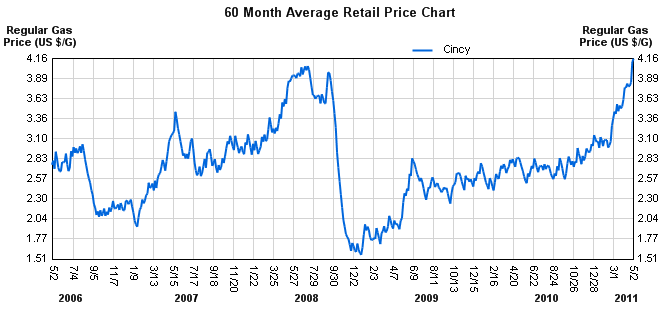 Related bad news: Ventures into retail this weekend revealed that the shopping traffic was significantly down from a few weeks ago, when things were still fairly robust. At least around here, gas prices are having a daily negative impact. And prices are STILL shooting up …
UPDATE: Well, Cincinnati can at least look at the bright side. We're not in Chicago, where the average was just barely under $4.50 as of 10:40 p.m.
UPDATE 2, May 3: As of 10 a.m. Tuesday —