Currently at Drudge (Drudge archive link):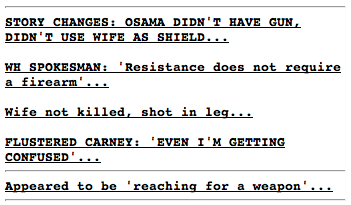 Links: First, second, third, fourth (go to 4:55 p.m. and 2:59 p.m. items), fifth.
At Hot Air: "The Story Shifts on the Abbottabad Raid; UPDATE: Carney Revises Again, Says There Was "Resistance" from bin Laden"
One thing I have little patience with is the idea that having assassination as a mission objective if there is meaningful resistance by the target or his accomplices is somehow not okay, But the hand-wringers are starting to crawl out of the woodwork:
As more details of the death of Sept. 11 mastermind Osama bin Laden surfaced Monday, some individuals suggested that the killing of the Al Qaeda leader by U.S. special forces may have violated international law.

However, human rights and civil liberties groups that have sharply criticized the Obama administration for its use of lethal force against terror suspects outside of war zones remained largely mum after the notorious bin Laden was shot by U.S. Navy SEALs in an operation that took place in Pakistan, where the U.S. is not involved in formally declared combat.

Some legal scholars and intelligence analysts are also expressing concerns that the covert military operation in Abbottabad was further evidence to them that the U.S. is taking the wrong approach in the so-called "global war on terror."

Former CIA analyst Ray McGovern went as far as to say that bin Laden was "martyred by U.S. forces acting arbitrarily and independently in a Muslim nation."

"The professor turned president was out to show how tough he is and how his crackerjack extrajudicial assassins can get their man," McGovern said. "There are commonly accepted legal ways to capture and bring such people to a court of law — yes, even the 'bad guys' like Osama bin Laden."
What the ironically named McGovern is saying is in my opinion horse manure — but it happens to have been the prevailing narrative of the left and many in the Obama administration, certainly including Eric Holder, until Sunday afternoon.
Additionally, someone needs to acknowledge that making Osama bin Laden a martyr was something a certain presidential candidate said he did not want to do:
OBAMA: BIN LADEN WON'T BE A MARTYR

Democratic White House hopeful Barack Obama said he would bring Osama bin Laden to justice in a way that would deny the al Qaida leader the chance to become a martyr.

Mr Obama's comments, following a meeting with his new team of national security advisers, marked another push by the first-term Illinois senator to battle criticism by presidential rival John McCain and other Republicans that he lacked the national security expertise needed to become president.

… Meanwhile, Mr Obama told reporters that if Bin Laden were found during his watch, he would bring him to justice in a way that wouldn't allow the terrorist mastermind to become a martyr, but he may be killed if the US government finds him.

"First of all, I think there is an executive order out on Osama bin Laden's head," Mr Obama said at a news conference. "And if I'm president, and we have the opportunity to capture him, we may not be able to capture him alive."

Mr Obama's campaign said he was referring to a classified Memorandum of Notification that President Bill Clinton approved in 1998 – revealed in the 9/11 Commission report – that would allow the CIA to kill Bin Laden if capture were not feasible.
But at crunch time, Obama issued orders to kill unless, as Leon Panetta said today, "he suddenly put up his hands and offered to be captured …" Unfortunately, that's not the only situation during which capture him alive is feasible. The fact that he was unarmed may — emphasis may — indicate that capture was feasible.
The series of what appear to be missteps and snafus are opening up the possibility that bin Laden will become more widely seen as a martyr that necessary (it was going to happen anyway with some, regardless of the care taken). It's not helpful. Get it together, people.
___________________________________________________
UPDATE: John at Powerline —
The administration's missteps do not significantly tarnish the achievement of getting bin Laden, but President Obama and his minions can be grateful that the press will, for the most part, pass over its errors and contradictions in silence.
He's most probably correct, but there does seem to be a bit of press opportunism here. Perhaps they're thinking that if the administration's narrative deteriorates further, it will starting rubbing off on the heroes who carried out the mission and the military in general. Denigrating the military is media obsession no matter who's in the Oval Office.