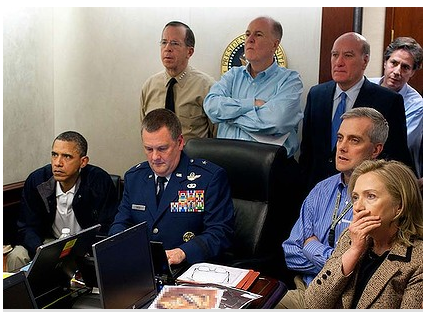 Moved to the top because of updates.
_______________________________________________
I'd have less of a problem with this if the intent to release Osama Bin Laden death photo(s) hadn't been the administration's initial and occasionally stubbornly stated position.
But it was. So now, as Michelle Malkin writes, "dhimmitude and non-disclosure prevail." Certainly in perception — and the bin Laden death deniers will have more of a field day than they deserve.
I especially have little patience for the "we don't want to offend others' sensibilities" argument. Help me remember: Did the innocent Nick Berg's murderers hold back on releasing the video of their cold-blooded decapitation of him? Did journalist Daniel Pearl's kidnappers? No? Then why are we holding back, when we did the right thing by taking out the monster who admitted to and celebrated the 9/11 attacks and the murder of thousands of innocents?
__________________________________________
UPDATE: Drudge links to this UK Daily Mail item and asks — "Muslim 'sensitivities' trump transparency?" Unfortunately, he didn't need the question mark.
UPDATE 2: Holman Jenkins, at the Wall Street Journal –
Civilization Vindicated
It took an advanced society to visit vengeance where it belonged.
It also takes an advanced society to appropriately show those who need to unequivocally recognize it that we will visit vengeance where it belongs when it needs to happen to preserve civilization.
Maybe we're not so advanced after all — or at least the people in charge aren't.
UPDATE 3: From the incomparable Pamela Geller at Atlas Shrugs, what is effectively a follow-up to my "months" questions in today's Lucid Links post (third item) –
It is disturbing that the safe-house was discovered last August and that we risked losing OBL over the course of the past nine months. The courier's name who led to Bin Laden through Bush's CIA interrogations was leaked in the latest WIKILEAKS dump. So it was only a matter of time.

"Osama bin Laden had 500 Euros in cash and two telephone numbers sewn into his clothing when he was killed, CBS News has confirmed." It was a miracle we got there in time.

But OBL appeared not to be worried. OBL was at the compound without armed guards or any sort of organized unit of protection. OBL was so confident, so safe, so assured. He lived there for some time (as opposed to moving from cave to cave under Bush). Clearly he was not worried under an Obama administration, and it's a miracle he was still there.

The media won't vet this story. So once again the blogs will go about getting to the bottom of things. The following update makes sense of what we know about Obama's reluctance to fight jihad. He seemed more concerned with getting Obama's Islamic burial right and the "Muslims sensitivities" that might be inflamed by the release of the OBL's death photos. Striking when Obama has insisted OBL was "not a Muslim leader."
Oh, it gets better, as she links to a claim that "Obama Hesitated – Panetta Issued Order to Kill Osama Bin Laden" –
"What Valerie Jarrett, and the president, did not know is that Leon Panetta had already initiated a program that reported to him –and only him, involving a covert on the ground attack against the compound."
Obama's apparently recent discovery about this covert operation by the CIA's Panetta might explain why he's suddenly heading over to Defense while Petraeus, who one might expect would have been read the riot act about ever thinking about doing something similar, is set to replace Panetta at the CIA.
Read the whole thing.
If (emphasis if) the above is true, we have a veritable Walter Mitty in the Oval Office acting out his fantasies in public. Heaven help us.