When I can put up graphs like what will follow shortly (besides to feed the "must have charts" crowd), something is wrong.
Look at what has happened to Ohio's welfare caseload during the last three reported years: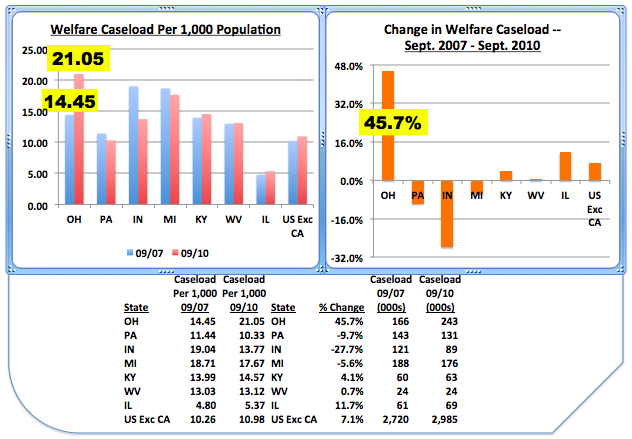 (Sources: 9/30/07 caseload; 9/30/10 caseload; Download page for Census data by state in Excel format as of July 1, 2007 and 2010)
Points:
During the three years involved, Ohio's "traditional" welfare caseload (TANF, or Temporary Assistance for Needy Families) under Democratic Governor Ted Strickland went up 45.7%. That might seem defensible given that the POR (Pelosi-Obama-Reid) Economy dominated the last two-plus years of the period analyzed, but that doesn't cut it based on what happened in other Midwestern and neighboring states.
Michigan's, which suffered greatly under Democratic Governor Jennifer Granholm's pathetic stewardship and was hit hardest by the US-headquartered auto industry's problems, nevertheless managed to trim its welfare rolls a bit in the three years reviewed. Its caseload, which was about 12% higher than Ohio's three years ago, is now about 25% lower.
Indiana also had a higher caseload as a percentage of the population than Ohio three years ago. Now, thanks to a 25% drop in the population-percentage caseload under Republican Governor Mitch Daniels, it's a lot lower.
Pennsylvania, which slightly reduced its welfare rolls under Democratic Government Ed Rendell, and whose population is about 8% higher than Ohio's, now has a welfare caseload that's now half the size of the Buckeye State's.
Welfare rolls haven't changed much in the other three neighboring or nearby states (IL, WV, KY). The population of Illinois is about 10% higher than Ohio's, yet its welfare caseload is about 75% lower.
California's 2007 and 2010 caseloads have been excluded because its welfare population, at about 4% of the state's total population, is way out of control, and would distort the results seen in the vast majority of the rest of the country.
There appears to be no legitimate reason why the welfare rolls in Ohio expanded by almost 46% during the three years in question while the rolls in all other neighboring states and the rest of the country either declined or barely expanded. It sure looks like the Strickland administration was more interested in adding dependents to Ohio's welfare rolls than it was in improving the state's economy.
The expanded welfare population is a drag on Ohio's economy which, based on the situation in surrounding states, is about twice as high as it should be.
The Kasich administration needs to address this — the quicker the better.
________________________________
UPDATE: The following states (and DC) have higher welfare caseloads as a percentage of the population than Ohio's 21.05 per thousand as of September 2010 (revised on May 13 to include Maine and to adjust other states' figures) –
California — 39.1 per thousand
DC — 31.7
Hawaii — 22.7
Maine — 30.4
New Mexico — 27.5
Oregon — 21.7
Tennessee — 25.5
Washington State — 25.6
Ohio is ninth in the country. This is not a good place to be.
Adding to the disgrace, here are a few other large states' percentage caseloads:
Florida — 5.69 per thousand
Georgia — 3.76
New Jersey — 9.44
New York — 19.78
Texas — 4.73
UPDATE 2: This Dispatch link discusses changes Kasich is making in certain areas, but doesn't seem to address the basic issue of eligibility. The idea that over five times as many people (population-weighted) are eligible for TANF in Ohio compared to Georgia, or more than four times as many compared to Texas, seems absurd on its face.