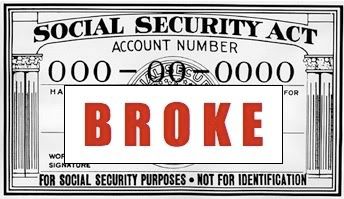 From the report's summary bolds and footnotes are mine; paragraph breaks added by me):
Social Security expenditures exceeded the program's non-interest income in 2010 for the first time since 1983. The $49 billion deficit last year (excluding interest income) and $46 billion projected deficit in 2011 are in large part due to the weakened economy [1] and to downward income adjustments that correct for excess payroll tax revenue credited to the trust funds in earlier years.

This deficit is expected to shrink to about $20 billion for years 2012-2014 as the economy strengthens. [2] After 2014, cash deficits are expected to grow rapidly as the number of beneficiaries continues to grow at a substantially faster rate than the number of covered workers.

Through 2022, the annual cash deficits will be made up by redeeming trust fund assets from the General Fund of the Treasury. Because these redemptions will be less than interest earnings, trust fund balances will continue to grow. [3]

After 2022, trust fund assets will be redeemed in amounts that exceed interest earnings until trust fund reserves are exhausted in 2036 [4], one year earlier than was projected last year. Thereafter, tax income would be sufficient to pay only about three-quarters of scheduled benefits through 2085.
[1] – The POR (Pelosi-Obama-Reid) Economy strikes again. In barely a year, it turned what were $100-plus surpluses into serious cash deficits. The ongoing damage continues. Before the POR Economy began, cash deficits weren't projected to begin until 2017. They began in 2010.
[2] – That should read "IF" the economy strengthens, not "as."
[3] – "Annual cash deficits" are being "made up" with general taxes — from a government that is running $1.4 trillion and more in annual deficits and is $14 trillion in debt. Socially Security is functionally bankrupt.
[4] – If nothing is done, we'll meander along for the next 25 years (2036 minus 2011), down from last year's projected 27 years (2037 minus 2010). That's IF the economy turns around. If it doesn't, the 25% cut date will loom ever sooner with each passing year.