Through the first four months of John Kasich's first term, Ohio's economy has added 62,300 seasonally adjusted (SA) jobs, and 4,000 actual (NSA, or not seasonally adjusted) jobs.
As seen in the graphic which follows, this performance wipes the floor with the results achieved under Ted Strickland in good economies or bad from 2007 through 2010 — and it's hard to make a case that the economy in which Kasich and Ohio are operating is being managed well at the national level: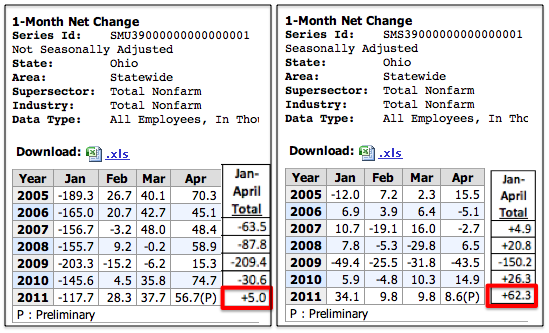 Strickland's 2010 did gain a bit on Kasich in April, but it's difficult to imagine why that should be worrisome, given that Ohio's economy in all of 2010 only added seasonally adjusted 31,000 jobs. Ohio's economy has added twice that many seasonally adjusted jobs under Kasich already.
As to April's unemployment rate, it fell to 8.6% SA (lowest since January 2009) and 8.4% NSA (1.9% lower than April 2010).
As I noted a month ago, absent contrary information, Kasich's electoral win, the GOP's re-taking of the House, and their combined actions in office this year get the presumptive credit for the improvements noted, unless someone can name something Ted Strickland did that might have had some kind of carryover effect. Good luck with that.