As noted very early this morning, the Associated Press, in its coverage of Herman Cain's announcement that he is a presidential candidate, ignored most of the stellar elements of Cain's business resume by limiting its description to the following sentence:
He worked at Coca-Cola, Pillsbury and Burger King before taking the helm of the failing Godfather's Pizza franchise, which he rescued by shuttering hundreds of restaurants.
In doing so, AP:
Limited its description of Cain's as CEO of Godfather's Pizza into one sentence about cost-cutting, when (as shown last night) the chain also resumed its growth and did so using innovative means.
Ignoring Cain's time served as board member and Chairman of the Board of the Federal Reserve Bank of Kansas City.
Failed to mention his tenure as head of the National Restaurant Association.
In addition, the one sentence the AP did use vastly understates Cain's influence at Burger King, where he turned a money-losing region into the chain's leading performer.
So let's fill in the holes and demonstrate how easy it would have been for AP (besides visiting Cain's web site, which would have been even easier) to get info about Cain's time at the Fed and Restaurant Association.
Here is a picture followed by a lineup identification of the KC Fed's Board from its Annual Report (link here):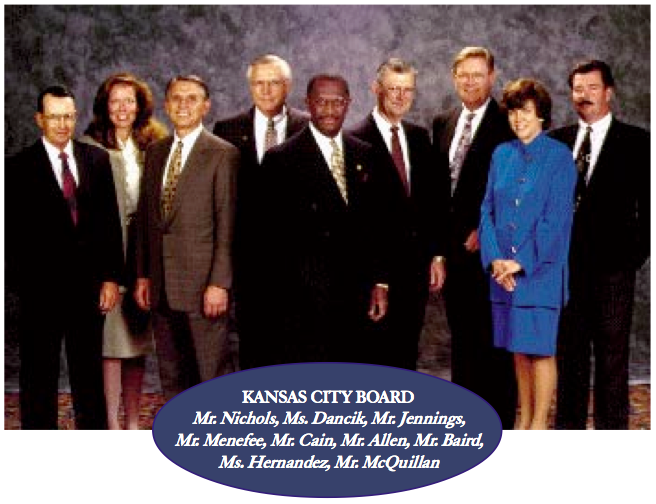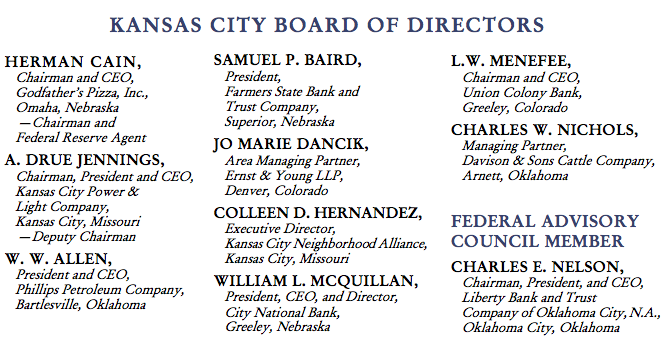 One will also find Mr. Cain pictured as KC Fed Chairman on Page 14 of the 1996 Annual Report (go to the same link to find that report).
As to the National Restaurant Association, an October 20, 1993 item in the New York Times on blacks in the restaurant industry noted that "The first black president of the restaurant association, Herman Cain, takes office next year. He is also the chief executive of the Godfather's Pizza chain."
Cain was still involved in Godfather's AND President of the National Restaurant Association when he had his famous encounter with Bill Clinton over the consequences of statist health care in 1994.
Total elapsed time of related searches (obviously, more time was involved in documentation): maybe 10 minutes.
A question for AP: Was it laziness, or do you want to make Cain look like a guy who "just" ran some restaurants (which in your smug ignorance you might somehow see as "easy"), when it's clear that the man is a high-powered, very accomplished guy in a variety of venues?